May 25, 2023
10 Questions with Chuck Schillaci, Spartan Surfaces' Touted Floor Prep Guy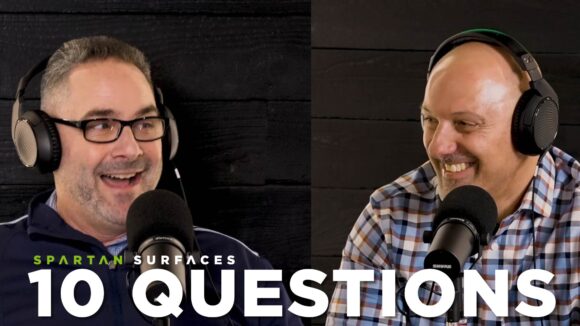 Tune into Spartan Surfaces 10 Questions with Chuck Schillaci as he spills on his love for hockey, his long standing friendships with Anthony Ferrante and Kevin Jablon, his healthy fear for his sister, his best college summer break at Ocean City, MD, and even throws in a story on how he burned his chin on a pizza door!
He also discusses his first job after college at the Bank of New York, managing equity portfolios where he had the opportunity to manage some sizable investments. Though he admits he would take flooring over finance any day of the week!
Chuck is from New York, and loves doing what he does now. So he also speaks on what he gets the most joy from, his job. His favorite Sylvester Stallone movie will surprise you!
Whether you're a hockey lover, a fan of genuine connections, or just intrigued by the extraordinary tales of ordinary individuals, Chuck's story is tailor-made for you. Tune in for all of this and more in 10 Questions with Chuck Schillaci, Spartan Surfaces' Touted Floor Prep Guy!
EXPLORE THE 10 QUESTIONS VIDEO SERIES
explore the 10 questions podcast series
ABOUT SPARTAN
Spartan Surfaces, a subsidiary of Floor & Decor, is a specialty flooring supplier headquartered in Bel Air, MD. Employing over 150 team members, Spartan holds warehousing and offices in Maryland and Minnesota with showrooms in D.C. and Chicago.  Its geography encompasses seventy percent of the United States, with continued expansion on the horizon. Taking a human-centered approach, Spartan prides itself on great people dedicated to great products, great families, great friendships, and great happiness. Whatever you're working on, we've got you covered!