February 16, 2023
10 Questions with Kevin Jablon, Spartan Surfaces Founder & CEO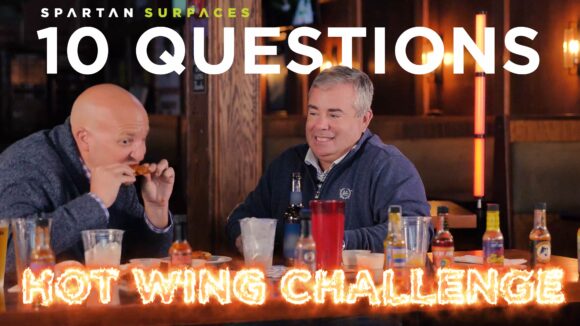 Welcome to the first episode of our 10 Questions Series! 10 Questions with Kevin Jablon
Kicking it off with a complete copy of Hot Ones, Founder & CEO, Kevin Jablon answers 10 questions from Senior VP, Joe Blodgett as they suffer through 6 totally doable and 4 much too spicy hot wings.
Shoutout to Looney's Pub Bel Air for serving up the heat and saving them with milkshakes. Stay tuned for 10 Questions Episode 2 coming soon!
EXPLORE THE 10 QUESTIONS VIDEO SERIES
explore the 10 questions podcast series
ABOUT SPARTAN
Spartan Surfaces, a subsidiary of Floor & Decor, is a specialty flooring supplier headquartered in Bel Air, MD. Employing over 150 team members, Spartan holds warehousing and offices in Maryland and Minnesota with showrooms in D.C. and Chicago.  Its geography encompasses seventy percent of the United States, with continued expansion on the horizon. Taking a human-centered approach, Spartan prides itself on great people dedicated to great products, great families, great friendships, and great happiness. Whatever you're working on, we've got you covered!