September 19, 2023
10 Questions with Meredith Nicholson, Spartan's Marketing Guru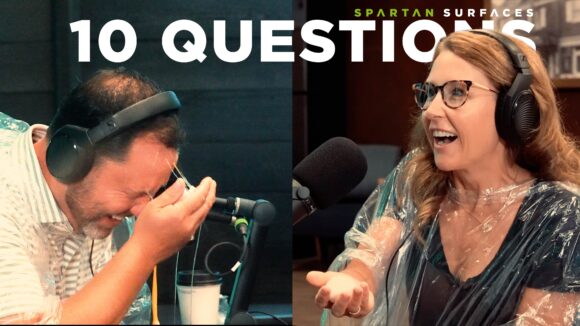 Welcome to our latest episode of 10 Questions, where we go below the surface to get to know the people who make Spartan Surfaces tick. This time, we're sitting down with Meredith Nicholson, the VP of Marketing at Spartan. She is here to discuss everything from the challenges of maintaining company culture during rapid expansion to her love for thrift shopping and french fries.
Whether you're a visual learner or an auditory one, we've got you covered. Watch the full video interview below, or if you're on the go, listen to our podcast channel, where you can multitask while catching up on all things Spartan.
The Evolution of 10 Questions
The series started as a hot-wing challenge and has since evolved into a chain reaction of interviews.  Mike Blasek chose Meredith, and she discusses how the series has grown and diversified, including the introduction of "egg roulette" in this episode.
The Unsung Hero
Meredith is one of the original employees at Spartan, joining the company when it was founded in 2007. She talks about the unique challenges and rewards of being in a marketing role in an industry that often doesn't have dedicated marketing departments.
The Culture Challenge
As Spartan Surfaces expands across the country, Meredith identifies maintaining the company's culture as the biggest challenge. She emphasizes the importance of imparting the Spartan voice and ethos to new team members, regardless of their location.
Work-Life Balance
Being a working mom is no small feat, and Meredith shares how she and her husband juggle their responsibilities. She also talks about how her role at Spartan allows her the creative freedom to develop new ideas, even while cooking dinner.
A Love for Thrifting and French Fries
In a lighter moment, Meredith shares her love for thrift shopping and french fries. She even faces off in a rapid-fire round of "this or that," choosing french fries over tater tots, Doritos, and Cheetos.
The Next Interviewee
Meredith passes the baton to Katie McGowan for the next episode, citing her radiant positivity and storytelling skills as reasons she's excited to hear more from her.
Listen via Podcast
Don't forget, you can also listen to this episode and all past episodes on our new podcast channel. Perfect for those who want to multitask on the move while getting their dose of Spartan.
Thank you for joining us for another episode of 10 Questions. Stay tuned for the next episode, where we'll get to know Katie McGowan better. Until then, keep asking questions and going below the surface!
EXPLORE THE 10 QUESTIONS VIDEO SERIES
explore the 10 questions podcast series
ABOUT SPARTAN
Spartan Surfaces, a subsidiary of Floor & Decor, is a specialty flooring supplier headquartered in Bel Air, MD. Employing over 150 team members, Spartan holds warehousing and offices in Maryland and Minnesota with showrooms in D.C. and Chicago.  Its geography encompasses eighty-five percent of the United States, with continued expansion on the horizon. Taking a human-centered approach, Spartan prides itself on great people dedicated to great products, great families, great friendships, and great happiness. Whatever you're working on, we've got you covered!