July 27, 2023
10 Questions with Mike Blasek, Spartan's VP of Sales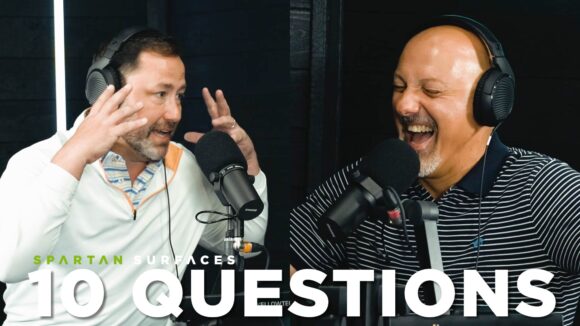 Welcome to our fourth episode of 10 Questions at Spartan Studios 🎤, where Chuck Schillaci has the opportunity to dig deep with VP of Sales, Mike Blasek. Listen in as he discusses what he enjoys most about working at Spartan Surfaces and find out why it's a rarity to see team members opt out of being a Spartan 💚.
Watch the video above or take a deep dive on our new podcast channel where you can multitask on the move while digesting all past and future Spartan tea ☕.
Want a sneak peak into this episode?
They also discuss Pearl Jam 2016, in Chicago. 🎸
Show off the Chicago showroom, and all the work Mike did to get it off the ground.
The surprising reason Mike would love to host Hollywood square. 💡
What is most surprising about being a dad.
Mike even tells us what's number one on his bucket list. 🏌️‍♂️
Listen in to find out all of that, and more!
EXPLORE THE 10 QUESTIONS VIDEO SERIES
explore the 10 questions podcast series
ABOUT SPARTAN
Spartan Surfaces, a subsidiary of Floor & Decor, is a specialty flooring supplier headquartered in Bel Air, MD. Employing over 150 team members, Spartan holds warehousing and offices in Maryland and Minnesota with showrooms in D.C. and Chicago.  Its geography encompasses eighty-five percent of the United States, with continued expansion on the horizon. Taking a human-centered approach, Spartan prides itself on great people dedicated to great products, great families, great friendships, and great happiness. Whatever you're working on, we've got you covered!