April 18, 2023
10 Questions with Scott Cucci, Spartan Surfaces' Official Italian Food Critic & Long Time Jersey Rep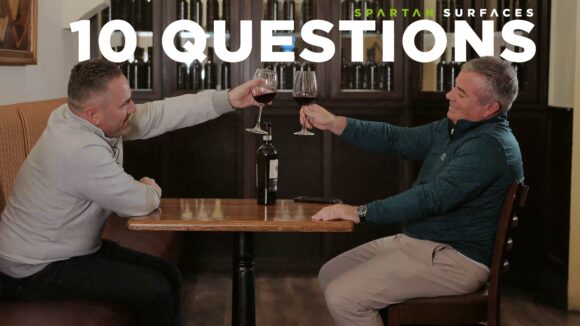 10 Questions with Scott Cucci
From tears to cheers, Spartan Founder and CEO Kevin Jablon asks 10 Questions to 10 year Spartan rep, Scott Cucci. Hosted at Enotria, Episode 2 takes a trip down memory lane, diving into all things personal and business. Tune in to learn more about our favorite Jersey rep, the Cooch man.
EXPLORE THE 10 QUESTIONS VIDEO SERIES
explore the 10 questions podcast series
ABOUT SPARTAN
Spartan Surfaces, a subsidiary of Floor & Decor, is a specialty flooring supplier headquartered in Bel Air, MD. Employing over 150 team members, Spartan holds warehousing and offices in Maryland and Minnesota with showrooms in D.C. and Chicago.  Its geography encompasses seventy percent of the United States, with continued expansion on the horizon. Taking a human-centered approach, Spartan prides itself on great people dedicated to great products, great families, great friendships, and great happiness. Whatever you're working on, we've got you covered!