September 18, 2019
Calling All Accounting Sharks, Senior Accountant Wanted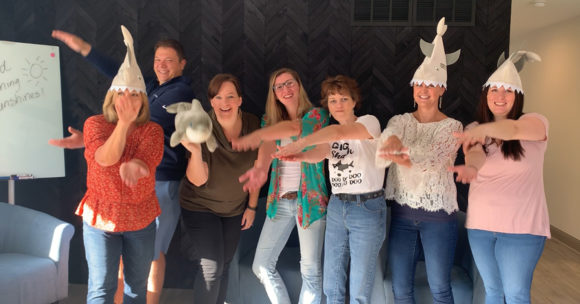 Adding to our all-star accounting team, Spartan is looking for a Senior Accountant to join the forces at Bel Air, HQ. From getting vendors paid to analyzing and summarizing our overall financial status, this position will play a key role in keeping what we fondly call 'The A-Team' running smoothly and efficiently.
A brief synopsis of responsibilities is highlighted below. To apply, please email resume and brief introduction to JoinUs@spartansurfaces.com.
The Low Down:
The role of Senior Accountant will include reconciling supplier billings, assisting in inventory and collections, reconciling account balances and bank statements, maintaining general ledger and assigning in month-end close procedures. A successful Senior Accountant combines excellent analytical skills with thorough knowledge of accounting principles to analyze financial operations. The ideal candidate also has experience collaborating with a team of other accountants and clerks (AKA the Sharks above :).
The Day to Day:
Verify, allocate, post and reconcile accounts payable
Work with inventory operations
Assist in collections efforts
Manage EDI with key suppliers
Produce error-free accounting reports
Analyze financial information and summarize financial status
Spot errors and suggest ways to improve efficiency and spending
Provide technical support and advice to management
Review and recommend modifications to accounting systems and procedures
Collaborate with other accountants and clerk
Participate in financial standards setting and in forecast process
Provide input into department's goal setting process
Prepare financial statements and produce budget according to schedule
Assist with tax audits and tax returns
Support month-end and year-end close process
Ensure compliance with GAAP principles
The Skills and Qualifications:
Proven experience in private industry accounting
Thorough knowledge of basic accounting procedures
Understanding of Generally Accepted Accounting Principles (GAAP)
Familiarity with financial accounting statements
Experience with general ledger functions and the month-end/year-end close process
Hands-on experience with accounting software packages
Advanced MS Excel skills including Vlookups and pivot tables
Accuracy and attention to detail
Aptitude for numbers and quantitative skills
BS degree in Accounting, Finance or relevant
CPA or CPA candidate preferred
ABOUT SPARTAN
Spartan provides a wonderful work environment filled with a great group of individuals.  Corporate culture is team oriented and laid back, but fast paced with a high demand for positive attitude and work efficiency.  Our core value is We Over Me, and we live this every day. Spartan is looking for long term team players to grow with the company.  This position includes a competitive salary, full benefits and 401K.
Spartan Surfaces is a specialty flooring distribution company headquartered in Bel Air, MD with showrooms in D.C., New York City, and Chicago. Its geography encompasses the East Coast from Florida through New York as well as regions in the Midwest and Southeast. With over 100 employees in 30 states, Spartan continues to expand its footprint. Taking a human-centered approach, Spartan prides itself on great people dedicated to great products, great families, great friendships and great happiness.