July 19, 2019
Challenge CRUSHED: Spartan Crew Loses a Grizzly Bear Worth in Weight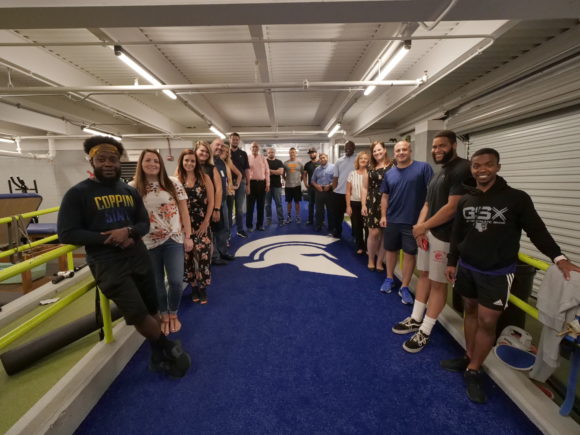 Goodbye carbs! Pizza! Pasta! Sandwiches! Cheeeeese! If your CEO was willing to give you $1,000 for losing 20lbs, would you go for it? In an effort to encourage employees to live a healthier lifestyle, Spartan Surfaces Founder and CEO, Kevin Jablon, did just that. Running a 19-week competition from February through June, 26 Spartans dropped the weight totaling 614lbs lost and $26,000 dollars earned.
Kicking off the challenge in February, many employees resorted to their own tactics for weight loss. Going to the local gym, eating salads, counting calories, and turning to Bill Ackerman at Spartan Sports & Wellness for fitness support. Ackerman, the Director of Sports & Wellness, offered group training sessions and nutrition advice to all of the participants throughout the duration of the challenge.
It wasn't long before the buzz around the office spread. Everyone was talking about how many pounds they were down, different weight loss secrets, and nutrition advice. It became a common occurrence for some participants to use their lunch break to head downstairs and get a workout in with Ackerman and his team. Our early riser employees would even show up at 5:30am to work out before they started their day. There was no doubt, this challenge had everyone hungry (pun intended).
Coming down the home stretch, not everyone met their mark, but those who did were feeling great and excited to keep up the momentum. At the final weigh in, an impressive 24% of Spartan's total employee count had dropped the weight ranging from 20-47lbs with a grand total of 614 pounds — the average weight of an adult male grizzly bear!
"There were many times I didn't think I could do it but the support from my boss, coworkers and the amazing trainers at the gym truly helped me realize how important it is for me to make time for myself again", says Gabrielle Amig who dropped 21lbs.
Trevor Campbell became the weight loss leader, losing an astonishing 47lbs. "The hardest part for me was being consistent with my diet," Campbell said when asked about the challenge. "One of the biggest motivators was seeing other people in the office work so hard to lose weight – that made me want to step my game up."
Jake Verger had similar remarks, "Something I would have done differently from this challenge is workout more and stick to my diet." Verger lost an impressive 41lbs.
Ackerman was excited from the start about the initiative. "An employee who is confident and healthy is a more productive employee. Statistics show that only 1 out of 3 Americans achieve the recommended amount of physical activity and nearly half of Americans polled say they don't have time. We wanted to curve those statistics", says Ackerman.
Congratulations to all Spartans who crushed Spartan's Weight Loss Challenge! 614 pounds, 26 challenge achievers, 1 Spartan family.
ABOUT SPARTAN
Spartan Surfaces is a specialty flooring distribution company headquartered in Bel Air, MD with showrooms in D.C., New York City, and Chicago. Its geography encompasses the East Coast from Florida through New York as well as regions in the Midwest and Southeast. With over 100 employees in 27 states, Spartan continues to expand its footprint. Taking a human-centered approach, Spartan prides itself on great people dedicated to great products, great families, great friendships and great happiness.