September 7, 2023
Flooring Answers: Cork 201 – A Specifier's Guide to Cork Tile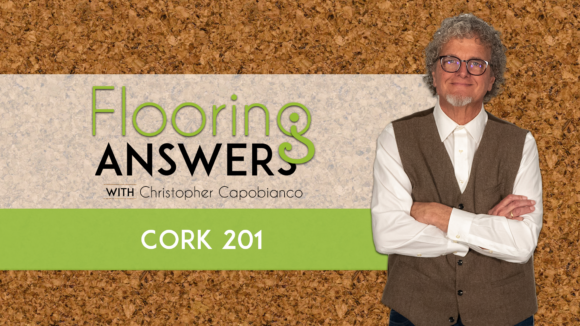 I was recently presenting my webinar series; Cork 101 & 201 for some of my new Spartan colleagues and our marketing team suggested I do a Flooring Answers version of Cork 201 (Cork Tile). Here we are, for"deeper dive" than the original.  Now that you've read the first part, here are some key points for specifiers to include in project documents.
BRUSH UP ON CORK WITH CORK 101 
COMPLIANCE WITH INDUSTRY STANDARDS
ASTM F3008, Standard Specification for Cork Floor Tile applies. Don't assume that all products imported to the US comply with this standard.   There are two product classes (Class I Homogeneous and Class II Heterogeneous), plus specific performance requirements and tolerances for physical properties.  For example, it's often preferred to specify Class I material for high traffic areas. This is because of its "uniform structure and composition throughout" that can be sanded and refinished if necessary.
ASTM F710, Standard Practice for Preparing Concrete floors to Receive Resilient Flooring has important language on (among other things) the importance of "clean, smooth and structurally sound" substrates, the type of patching or leveling compound to use, acclimation ("require that flooring products, sundry supplies, and the area to receive resilient flooring are properly conditioned"), and concrete moisture testing ("all concrete slabs shall be tested for moisture regardless of age or grade level").
CORK TILE INSTALLATION       
Adhesive
Cork tile MUST be installed with contact adhesive that is applied to the back of the tile AND to the substrate. For the specification, I'd suggest this language; "Install Cork tile with (a.) specific adhesive name OR (b.) water-based contact adhesive recommended for cork tile. No alternates permitted." Many cork failures I've seen occurred when someone switched adhesive.
Layout
When I was in Portugal with the cork installation experts at the factory, they pointed out that a staggered "Ashlar or "Brick" layout is preferred for square tile to assure tight seams and a good visual appearance. Some manufacturers have this in their written instructions, and some don't. The risk of a "corner to corner" installation is that because it's a natural material, sometimes the sizing may be slightly off, so the corners may not be tight.
Acclimation
Ideal is that the climate control system (HVAC) is operating, set at 70oF with the tile in the room for three days or more before installing.
Staging
Other than baseboard molding, make the floor the last thing you do. I've seen so many floors get ruined by construction that went on after the floor was installed. The worst was a beautiful NYC corporate office in dark homogeneous cork – the color of coffee. They sanded the drywall after the floor got installed, didn't protect it and the floor had white lines from the dust around every tile.
 MAINTENANCE OF CORK TILE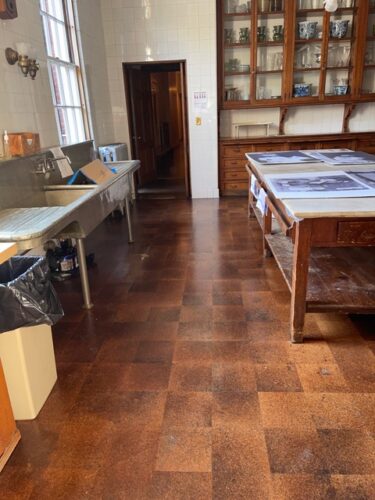 Initial Maintenance
Initial maintenance MAY include another coat or two of polyurethane, even on a urethane coated tile. Some manufacturers require it under warranty, and some don't. Either way, I recommend it for many commercial spaces, especially when Class II heterogeneous tile is installed. The extra coats add an extra wear surface and "fill in the cracks" to a certain degree.
Regular Maintenance
Regular maintenance is just like wood. Sweep and damp mop. There are wood floor care kits available that make it easy.
An Ounce of Prevention
Furniture on the floor must have a flat contact point that is at least 1 square inch (a 1.125" circle). All areas with rolling chairs must have chair pads. Do not use nylon/hard plastic glides or casters; Felt is your friend! Using Felt glides on all furniture protects the floor and makes furniture easier to move! Entrance mats keep dirt, grit and water off the floor, and window treatments protect from sun damage.
Older Cork Restoration
Restoration of older cork (or any urethane coated floor) is a "screen and re-coat" process by a professional refinishing company. They buff the floor slightly to roughen the surface and apply another coat of polyurethane. It's a quick process compared to sanding, which is only an option on homogeneous cork. Screen & recoat every few years in high traffic areas and the floor will last for a good long time.
ON ANOTHER NOTE.
Is There a Cork Shortage?
I'm often asked this because of the proliferation of plastic bottle stoppers and screw tops. The answer is No.  The Olive Press (April 18, 2020) reported an a 100-year supply for the wine industry in Portugal alone and that that the "number of wines using natural corks has risen by 600,000 bottles a year, while plastic stopper use has fallen by four million units." If you look at wine corks, you'll see that there are stoppers made using agglomerated cork (compressed cork granules) that compete price-wise with plastic.
What About "Corked" Wine?
When wine goes bad, it sometimes gets blamed on"cork taint". That same article explained that the "taint" comes from a chemical compound (2,4,6-trichloroanisole or TCA) from fungi in natural cork, found in one in ten stoppers. The "TCA taint" ruins the wine in the bottle. This has been solved by Portuguese scientists with a new process involving a secret substance and a use of steam.
Wine & Spirits magazine (January 19, 2021) said "The cork industry responded [to TCA taint] by implementing preventive measures, including new cork-storage and -washing protocols, and began developing curative technologies [that] will help bring an end to cork taint.
WANT TO LEARN MORE?
Want to see cork flooring products or sit in on one of our cork webinars? Check in with your Spartan Surfaces rep.
Follow Christopher's Flooring Facebook
Explore all our Flooring Answer Articles
Explore all our Flooring Answer Videos
ABOUT CHRISTOPHER
Christopher Capobianco covers the NY Metro and Connecticut area for Spartan.  He's a fourth-generation floor coverer whose family has been in the business since the 1930s. For 36 of the last 43 years, he's had roles in retail, distributor, and manufacturer sales.  The other seven years were spent in floor covering training and technical support.  He also has been a part time columnist for various flooring magazines since 1988 and is a long-time member of the ASTM Committee on resilient flooring. You can reach him here.