July 5, 2023
Flooring Answers: Rubber Flooring FAQs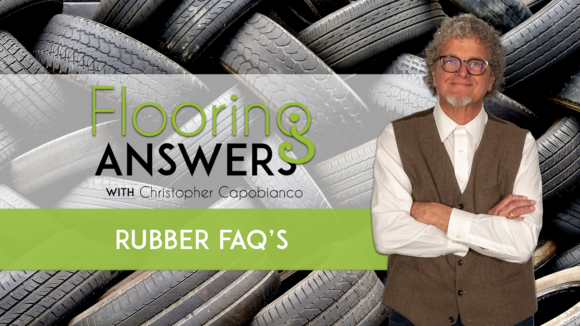 Rubber flooring is one of the oldest types of resilient flooring – it's been around for generations! Rubber floors are durable and provide slip resistance, ease of maintenance, comfort under foot and acoustic benefits. With all the different options, it can be confusing so here is a brief Q&A on some common questions.
Is rubber a durable floor covering?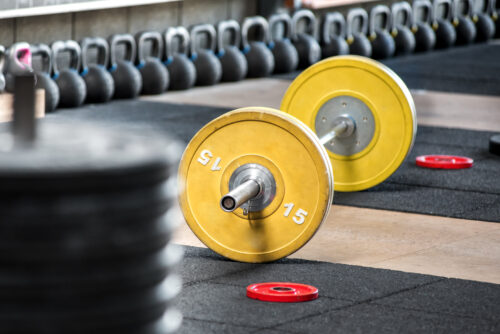 Yes, properly installed and maintained, rubber is a very tough floor.  I always recall an office building I used to visit in New York City that had marbleized smooth rubber tile installed in the elevator.  I would bet the floor was at least 50 years old but was not showing any wear, cracking, or gapping even with the heavy traffic it received every day.  That floor made me a big fan of rubber for high traffic areas.
What does vulcanized mean?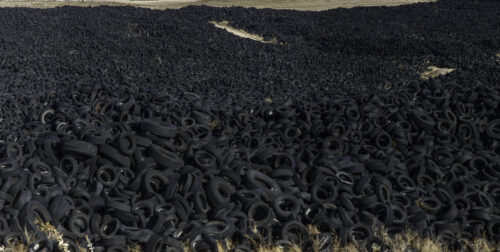 Invented in the 1800s by Charles Goodyear, Vulcanization is the process of treating rubber using heat and pressure to harden the rubber and give it properties such as elasticity, strength, stability, and resistance to extremes of temperature. This is useful for products like tires, shoe soles, hoses, flooring, and the many other materials made from vulcanized rubber.
What is virgin rubber?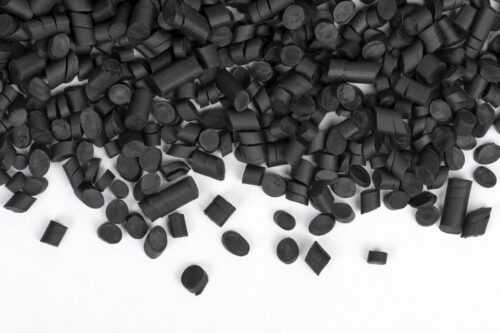 Virgin rubber describes non-recycled rubber materials.  Rubber tile products are made in a mold – like a giant waffle iron – that stamps a three-dimensional design into the surface. "Coin top" raised circular design rubber tile has been popular for a long time, but other surface textures like raised squares, hammered, diamond design, smooth and others are now readily available.  In the old days, marbleized smooth rubber was it, and even that look has been making a comeback recently in more updated colors.  Rubber tile is often used in heavy traffic commercial areas but is also used because the textures have a unique look that's not available in any other floor covering.
On the other hand, there is a different creation process for rubber sheet, rendering raised designs impossible. Sheet rubber is smooth or has a slight texture. These products are growing in popularity in health care settings because you can heat weld and cove up the walls. There are also thicker rubber tile and sheet products made for fitness applications.  There are ASTM standards for Rubber Floor Tile (ASTM F1344) and Rubber Sheet Flooring (ASTM F1860).
How do you make recycled rubber?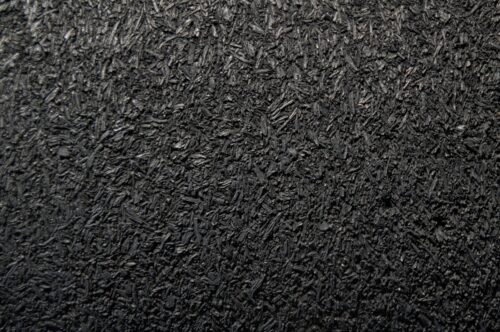 Recycled or Vulcanized Composition rubber are more commons terms for its actual name, Bonded Crumb Rubber Flooring.   "Crumb" is granulated black rubber from recycled truck tires and colored EPDM, a synthetic rubber that we can then color. The granulated materials are blended, and then compressed into blocks or cylinders (sometimes called logs). These cylinders are then "peeled", much like the way a tree log is peeled to make wood veneers.  Different thickness options are available, depending on the desired use for the finished rubber flooring. The original versions of this material were all black, then black with small amounts of color for a "speckled" look. Today there are versions with a lot more color, plus rubber-cork blends and all EPDM products with no black at all.
The most common options are 1/8" thick (3.2mm) for general commercial space like libraries, offices, and stores. For fitness, physical therapy, or other areas where the additional thickness provides shock absorption, comfort under foot and acoustic benefits, 3/8" (8mm) is best. There is also a growing category of molded crumb rubber tile in 1" or 2.5" thickness for weight rooms, general fitness uses and even outdoor spaces like playgrounds for the 2.5 version.  Bonded Crumb Rubber flooring is specified as per ASTM F3041, which covers tile and sheet products.
What's important when writing a rubber specification?
As far as the product specification, be sure to include the details, not just the color!  Many products come in different thickness options, roll goods, tiles, interlocking "puzzle" tile and other variations. One color can literally have a dozen options! The Spartan Quotes Team manages requests every day without all of the details, which slows down the project bid process. Don't be afraid to make a phone call to get all the spec language right.
For installation, be sure to specify the adhesive in addition to the flooring. Rubber requires a very specific type of adhesive, so put it in the spec!  For example, if the installer decides to use their favorite vinyl tile adhesive on rubber, the results can be disastrous!
Also, like all floor coverings, scheduling matters! It's important to install the floor last. We respond to a lot of calls about brand new floors that have damaging between installation and ownership.
Is rubber flooring easy to maintain?
Finally, maintenance is another detail to include in your specifications. Rubber is an easy floor to maintain, but some products may have initial maintenance procedures. For example, when creating rubber tile, they will spray a silicone release agent on the metal mold to prevent the rubber from sticking. Again, think waffle iron and cooking spray. Some rubber tile products require a good cleaning of the new floor to remove this material. Another initial maintenance process for some products is the application of a clear finish to the new floor. In either of these cases and others, it's best if you can write the details into the specification. The flooring contactor may or may not have personnel to do initial maintenance, but if you can outline the details upfront, the project can be properly scheduled.
As always, the expert tea at Spartan surfaces and our manufacturer partners are available to help answer your questions and write a good specification. Just let us know how we can help!
EXPLORE ALL OUR FLOORING ANSWER ARTICLES
EXPLORE ALL OUR FLOORING ANSWER VIDEOS
ABOUT CHRISTOPHER
Christopher Capobianco covers the NY Metro for Spartan.  He's a fourth-generation floor coverer whose family has been in the business since the 1930s. Christopher has been in it since the 70s in retail, distributor, and manufacturer sales, and also in training and technical support.  He has been a part-time columnist for flooring magazines since 1988, and a long-time member of the ASTM Committee. You can reach him here.
ABOUT SPARTAN
Spartan Surfaces, a subsidiary of Floor & Decor, is a specialty flooring supplier headquartered in Bel Air, MD. Employing over 150 team members, Spartan holds warehousing and offices in Maryland and Minnesota with showrooms in D.C. and Chicago.  Its geography encompasses seventy percent of the United States, with continued expansion on the horizon. Taking a human-centered approach, Spartan prides itself on great people dedicated to great products, great families, great friendships, and great happiness. Whatever you're working on, we've got you covered!