April 11, 2022
Flooring Answers: The Latest in Resilient Floor Tile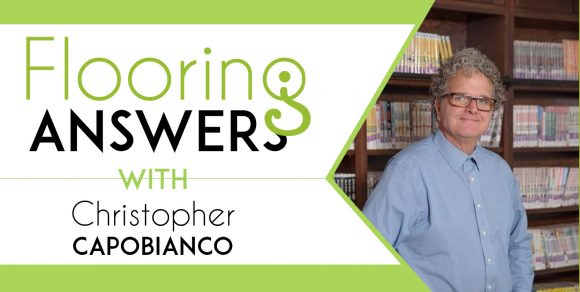 Dating back to Vinyl Asbestos tile in the mid-20th century, resilient floor tile has been used in commercial interiors for decades, and there are more variations today than ever before. There are so many terms and names out there, lets clarify!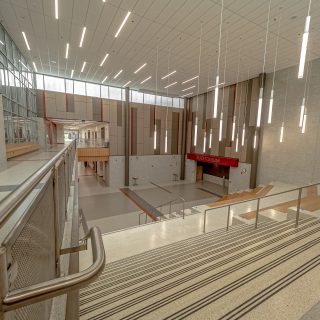 Quartz tile is a term that can be confusing.  I don't mean a natural stone and resin tile, I mean quartz composition tile, which I call "21st Century VCT."  The difference is the main ingredient. aka "filler." In many vinyl floors, it is pulverized limestone. Substituting a much harder mineral, quartz, makes this a very indentation resistant and flexible that takes a beating and doesn't crack as easily. Some Quartz Tile has a factory urethane coating to eliminate the need for floor finishes, and larger sizes mean fewer seams.
ASTM F1700 (Standard Specification for Solid Vinyl Floor Tile) includes "Monolithic" vinyl tile, a tough, durable product with the color all the way through.  There is also "Printed Film Vinyl Tile," often called "Luxury" vinyl (LVT).  These products have a hat has a clear wear layer over the design for durability and easy maintenance. I've known this category for decades, and the pattern options are more varied than ever; including realistic renditions of wood, terrazzo, stone, slate, tile, carpet and more!
There are also a growing number of options available that are similar looking to SVT and LVT but are made from other polymers besides vinyl, so they are "PVC Free" formulations.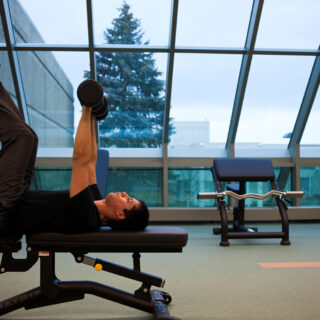 Originally introduced in the 1940s, Rubber flooring continues to be an important commercial resilient product because of quietness, slip resistance and lower maintenance costs.  This is not just the "coin top" raised circular design you may be familiar with; there are many other surface textures like squares and "hammered, which is the most popular option.   In the old days, marbleized smooth rubber was all we had, and even that look has been making a comeback recently in more updated colors.  This style of product has been around for sixty years or more and is historically one of the toughest and most durable flooring options for high traffic areas.
"Bonded Crumb Rubber" (aka "recycled rubber" or "vulcanized composition rubber") has been around since the 1980s and is best known for its use in fitness applications, physical therapy and other activity spaces, with 3/8" thick material the most common – like that black floor with the gray flecks that's at your local gym.  However, there is a lot more than just that when it comes to crumb rubber. Products with a lot more color than black, rubber/cork blends and other variations have made this a great product choice for commercial spaces from classrooms to libraries, offices and more. From 1/8" thick for general commercial space and 2.5" for weight rooms, crumb rubber has a lot of uses and some great looking options.
VCT has been used in retail, schools, hospitals and a variety of other spaces for decades as a "low cost" resilient floor option to purchase and install. However, it's generally more involved to maintain it, and the design options are few, so several other categories now have widespread use.
LINOLEUM
My great grandfather and both grandfathers made their start in our business selling and installing Linoleum in the as far back as the 1930s. Vinyl and rubber flooring pushed linoleum out for a while, but it has made a comeback starting in the early 1990s.  Just to be clear, I don't mean "sheet vinyl" which is often called "linoleum" incorrectly. Natural Linoleum is made from linseed oil, pine resin, ground cork, wood flour, and a jute – it's very popular for "green" design projects because of its natural ingredients.  Installed and maintained correctly, "lino" is a tough and durable product that can be used in almost any traffic area, and there are fantastic color options that can be used to create custom cut designs and logos on the floor using waterjet technology that is also being used across most resilient flooring categories.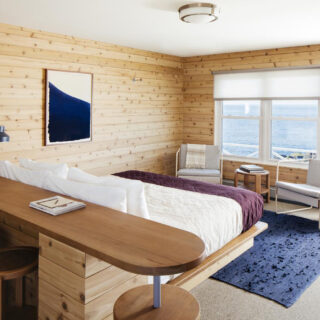 The oldest floor in the resilient category, Cork tile has been in use since the early 1900s. Because of its unique look, "green" story, under foot comfort, sound and heat insulating characteristics, cork is making a comeback!   There are more options than ever in colored cork and unique looks that have expanded the category quite a bit. Although classified as resilient flooring, cork floors have a lot of the same characteristics as wood flooring regarding handling, installation and finishing. Homogeneous cork tile is the longest lasting cork flooring because of its "through body" construction that can be sanded and refinished like wood floors and will last for generations. There are also Heterogenous cork floors that are made from gorgeous cork veneers, and a growing number of engineered planks that are a "floating" floor system that "clicks" together like laminate and same wood floor products.
As you see, the resilient tile category continues to be an important part of the commercial flooring marketplace, and we didn't even discuss sheet goods! Maybe some other time!!
Explore all our Flooring Answer Articles
Explore all our Flooring Answer Videos
ABOUT CHRISTOPHER
Christopher Capobianco covers the NY Metro and Connecticut area for Spartan.  He's a fourth-generation floor coverer whose family has been in the business since the 1930s. For 36 of the last 43 years, he's had roles in retail, distributor, and manufacturer sales.  The other seven years were spent in floor covering training and technical support.  He also has been a part time columnist for various flooring magazines since 1988 and is a long-time member of the ASTM Committee on resilient flooring. You can reach him here.