October 25, 2022
Flooring Answers: Vinyl Tile – Chapter Four Waterproof Vinyl Plank and Tile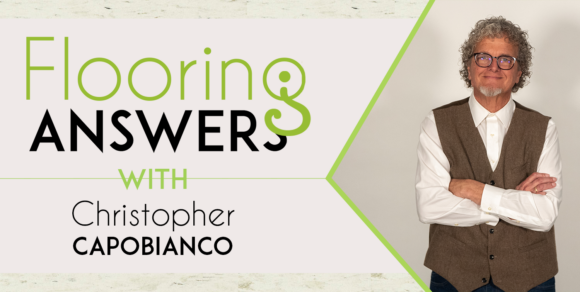 I've been in the vinyl tile business since the 1970s and today the category is more popular than ever. However, growing popularity comes with confusion in terminology that's misused and misunderstood. This four-part series clarifies terms like VCT, LVT, SPC and other terms to give specifiers and the trade some language and resources for the correct specification of these products.  Industry standards for resilient floorings are set by ASTM, and I'll reference the appropriate standards as I go. Continue reading to learn more about waterproof vinyl plank and tile.
READ PART 1  READ PART 2 read part 3
WPC, SPC, Waterproof vinyl…what's it all about?
The most recent growth in the vinyl tile category has been in multi-layer products . Multi-layer products are thicker than traditional vinyl tile and plank. These are installed without adhesive and may have an attached underlayment for improved acoustic performance.  These are most often used in residential settings and have become very popular in high-rise buildings like multi-family housing and hotels.
Terms such as "Click LVT", "WPC", "SPC", "Rigid Core", and "Waterproof" are confusing even to me. Luckily, however, recent industry standards have clarified things a bit. ASTM has published the F3261 Standard Specification for Resilient Flooring in Modular Format with Rigid Polymeric Core and the Resilient Floor Covering Institute (RFCI) has published some useful information as well.
The top layer of "rigid core" vinyl has a similar composition to the "LVT" products we discussed in Part 3, a print film under a clear wear layer. The thickness of the wear layer is an important consideration for the end user in question. For example, per ASTM standards, a 20-mil wear layer is the minimum for commercial applications.  The biggest difference between these products is under the print film in the core of the material.  They have a "tongue and groove" construction, allowing tiles or planks to "click and lock" together. This creates a floating, glue-less floor, like products such as laminate flooring and some wood and cork floors do.
The original products in this category are known as WPC (wood/polymer composite, etc), a blend of plastics, limestone, and wood fiber. Today, RFCI defines this as "an expanded polymer core that is light in weight and provides underfoot comfort with excellent acoustical qualities".  Another category that came later is "SPC" (Stone/polymer composite etc.) that RFCI describes as a "solid polymer core, which makes it denser, providing additional benefits due to its hardness."Most of these products have what ASTM F3261 describes as, "an attached underlay backer for reduced noise and for reducing issues concerning minor subfloor irregularities.*"
While we are on the subject of"reduced noise", it's worth noting that this means impact noise such as walking, and ambient noise such as music, which can transmit through the floor into the space below. These products do not necessarily make the room you are in quieter, because sound will still bounce back off a smooth surface.
With all the advertising for these products as "waterproof" vinyl floors, one might think vinyl was not always waterproof, which of course is not true. These claims can also give the impression that if the floor gets flooded, there is no problem: that's certainly not true either. If a flood were to occur, the entire floor would have to be removed so that the substrate and the flooring material could be allowed to dry out; not to mention the walls, if you had a particularly bad flood. Again, though the material is technically waterproof, it's more complex than that.
When I describe these products, I prefer to talk more about other advantages, such as better sound reduction, simpler installation, smoother transitions to adjacent floor coverings like carpet tile, and oh, yes – it's also waterproof. If you have a flood, theoretically you can take it all up, dry it out and put it back down again.
That covers a little about "waterproof" when it comes to water from above.  What about water vapor from below? The problem of excess concrete moisture vapor emissions has been with us for a long time and, despite causing billions of dollars in flooring failures, is still very misunderstood. Today, floating floors are often suggested as a "solution," assuming that damp concrete under floating floors is okay because there is no adhesive. That's the issue, right? Well, in a lot of cases it is, but making that assumption can also get you in trouble.
So, no glue, no moisture testing, right? Wrong. Read the manufacturer's documents before making any assumptions about moisture testing.  Though the moisture limits may be higher than glue-down products, there may still be limits. I experienced this firsthand on a commercial project over new concrete, where a 5mm thick "click" vinyl plank installation was curling badly. When the planks were lifted, the concrete was visibly damp, and the moisture readings were on the high side.
It was assumed before the floor was installed that this was not an issue, so no testing was performed.  However, the manufacturer did, in fact, have a published moisture limit. Despite the material being "waterproof",  it can be affected by issues related to moisture. For example, elevated pH and alkalinity often appears as moisture emits from concrete slabs.
My biggest concern about rigid core products in these scenarios is trapped moisture between the substrate and the floor covering.  Whether your subfloor is wood or concrete, whether it's water from the top or moisture from below, moisture under the floor covering creates potential problems, such as mold and bacterial growth.   So, all that said, what to do? For starters, read the installation guides and the warranties for these products.  You can bet there is language about how long a floor is considered "waterproof" after a flood (24-48 hours) as well concrete moisture and pH testing. There also may be warranty exclusions for water emergencies and elevated concrete moisture or pH levels.
In summary, thanks for reading my entire four-part series on vinyl tile. I hope I was able to clarify some of the details for you and that if you have any questions, you will be in touch. I'd also welcome your suggestions for any other "Flooring Answers" articles as well.
Special Thanks to Graham Capobianco of Novalis Innovative Flooring for his assistance with this article.
EXPLORE ALL OUR FLOORING ANSWER ARTICLES
EXPLORE ALL OUR FLOORING ANSWER VIDEOS
ABOUT CHRISTOPHER
Christopher Capobianco covers the NY Metro for Spartan.  He's a fourth-generation floor coverer whose family has been in the business since the 1930s. He has been in it since the 70s in retail, distributor, and manufacturer sales. Additionally, he worked in training and technical support.  He works as a part-time columnist for various flooring magazines since 1988. He is also a long-time member of the ASTM Committee on resilient flooring. You can reach him here.
ABOUT SPARTAN
Spartan Surfaces, a subsidiary of Floor & Decor, is a specialty flooring supplier headquartered in Bel Air, MD. Employing over 150 team members, Spartan holds warehousing and offices in Maryland and Minnesota with showrooms in D.C. and Chicago.  Its geography encompasses seventy percent of the United States with continued expansion on the horizon. Taking a human-centered approach, Spartan prides itself on great people dedicated to great products, great families, great friendships, and great happiness. Whatever you're working on, we've got you covered!