July 14, 2020
Flooring University: Commercial Rubber 101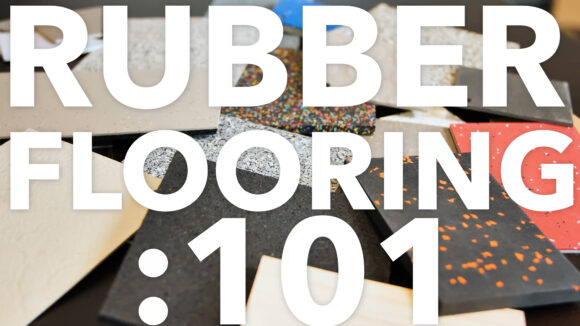 Commercial Rubber flooring is a versatile and durable option for various applications. Phil Carey, a veteran in the flooring industry with Spartan Surfaces, delves into the ins and outs of rubber flooring, from types to benefits and beyond.
Types of Commercial Rubber Flooring
According to Carey, there are three main types of rubber flooring: natural, synthetic, and recycled. These types are available in two forms: tiles and rolls.
How Rubber Flooring is Made
The manufacturing process involves vulcanization, where granules of rubber are blended together. This process allows for various thickness levels, from 3.2 millimeters to 8 millimeters. Some rubber flooring even incorporates cork for sustainability and aesthetics.
Benefits of Rubber Flooring
Three key benefits make commercial rubber flooring a popular choice: sustainability, sound deadening, and ergonomics. Recycled rubber flooring, made from truck tires, is particularly eco-friendly. The material's sound-deadening qualities make it ideal for multi-level spaces. Lastly, the ergonomic benefits include cushioning and anti-fatigue properties.
Where Can Rubber Be Used?
Rubber flooring is incredibly versatile, suitable for equestrian stables, playgrounds, fitness centers, and even ice arenas. Its evolving aesthetics have also made it popular in healthcare, corporate, and educational spaces.
Healthcare and Rubber Flooring
In healthcare settings, commercial rubber flooring offers numerous advantages, from comfort for staff standing long hours to its self-healing properties that minimize repair needs. It's also beneficial in maternity wings and rehabilitation areas due to its sound quality and forgiving nature.
Rubber Flooring Aesthetics
Gone are the days when rubber flooring looked purely institutional. Modern commercial rubber flooring options offer geometric patterns and marbleization, making them suitable for corporate spaces.
Corporate Spaces and Rubber Flooring
In corporate settings, rubber flooring is easier to maintain and offers a longer lifecycle compared to other materials like carpet. It also provides ergonomic benefits, making it a comfortable choice for staff.
How is Rubber Flooring Installed?
Rubber flooring is generally glued down, although some types feature unique interlocking systems. Regardless of the installation method, rubber flooring is straightforward to install.
Rubber Smell and VOCs
Contrary to popular belief, the rubber smell dissipates quickly and the material contains no harmful VOCs or carcinogens, making it safe for all types of spaces.
Final Thoughts
Rubber flooring offers a blend of durability, versatility, and aesthetic appeal. Whether you're considering flooring for a healthcare facility, a corporate office, or even a horse stable, rubber flooring stands as a robust option.
About Spartan
Spartan Surfaces, a subsidiary of Floor & Decor, is a specialty flooring supplier headquartered in Bel Air, MD. Employing over 150 team members, Spartan holds warehousing and offices in Maryland and Minnesota with showrooms in D.C. and Chicago.  Its geography encompasses seventy percent of the United States, with continued expansion on the horizon. Taking a human-centered approach, Spartan prides itself on great people dedicated to great products, great families, great friendships, and great happiness. Whatever you're working on, we've got you covered!