March 28, 2019
Jump on Board Spartan Distribution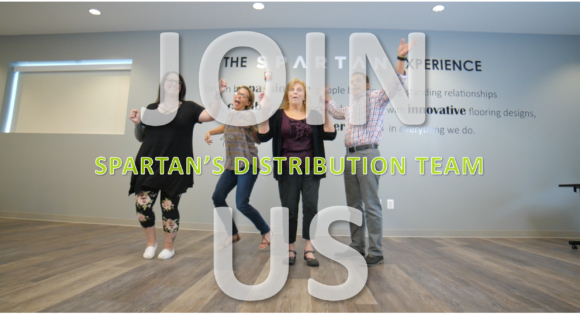 Spartan's distribution team is looking for another member. The team of five is charged with making sure orders come in and product goes out In A Jiffy from Spartan's warehouse in Bel Air, MD.
The position will be supporting our growing distribution business, where five trucks go out every day and deliver products from adhesives to sundries to wall base, from Philadelphia through Northern Virginia.  Day to day, the representative will provide customer service and administrative support for distribution customer accounts to help meet company sales targets, objectives, and provide the most support possible to our valued customers.
A brief synopsis of responsibilities is highlighted below. To apply, please email resume and brief introduction to JoinUs@spartansurfaces.com.
Position Responsibilities | This position includes but is not limited to:
Managing and supporting distributor accounts
Providing information to customers and our sales team to include:
Purchase order receipt confirmations
Shipment/delivery confirmations/tracking numbers
Stock checks
Open order reports
Expedite status
Utilizing customer portals as needed
Receiving and/or retrieving customer purchase orders to enter into our system accurately and efficiently
Maintaining and updating orders to meet the needs of the customer
Working with manager to resolve pricing discrepancies
Customer Service Requirements
Previous manufacturing experience preferred
Minimum 2 years' experience in sales administration, customer service, pricing/quoting, or similar environment
Exceptional attention to detail and organizational skills
Ability to effectively manage multiple items/issues/requests simultaneously and be able to prioritize those, following up as needed to insure timely completion
Excellent verbal and written communication skills
Must be able to communicate and interface with internal teams and external partners effectively via phone,e-mail and face-to-face
Ability to maintain a high level of professionalism under tense situations
Intermediate computer skills (Outlook, Word, Excel) and experience in CRM Software
Ability to learn new programs easily a plus.
ABOUT SPARTAN
Spartan provides a wonderful work environment filled with a great group of individuals.  Corporate culture is team oriented and laid back, but fast paced with a high demand for positive attitude and work efficiency.  Our core value is We Over Me, and we live this every day. Spartan is looking for long term team players to grow with the company.  This position includes a competitive salary, full benefits and 401K.
Spartan Surfaces is a specialty flooring distribution company headquartered in Bel Air, MD with showrooms in D.C., New York City, and Chicago. Its geography encompasses the East Coast from Florida through New York as well as regions in the Midwest and Southeast. With over 100 employees in 30 states, Spartan continues to expand its footprint. Taking a human-centered approach, Spartan prides itself on great people dedicated to great products, great families, great friendships and great happiness.