June 18, 2019
Learning From the Next Generation, Spartan Welcomes Gr-8 Interns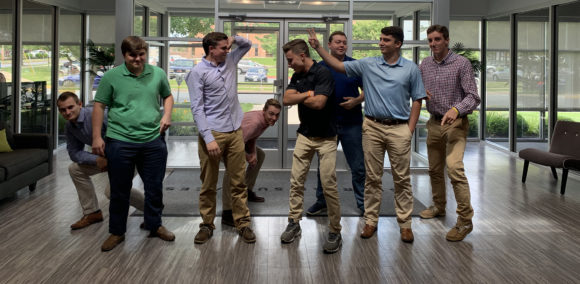 For the Summer of 2019, Spartan Surfaces has brought on eight new interns who have found homes in their new departments. From customer service, to accounting, to marketing, these interns are diving headfirst into Spartan's daily operations and learning the business inside and out. We hope to provide them with a valuable experience that they can use to grow, in a fun and professional environment.
Saint Joseph's University Senior, Peter Ferrara has joined Spartan Surfaces accounting department this year in late May. As a longtime friend of the Jablon family, Peter has wanted to intern for Spartan Surfaces for years. While crunching Spartan's numbers, Peter hopes to learn something new every day and to gain a better perspective of the culture in a growing company. As a double major in finance and leadership, ethics, and organizational sustainability, Peter enjoys being able to step away from the textbooks from time to time. In the Fall of 2018, he did more than just step away. Peter left behind his day-to-day life in Philadelphia, PA and instead, he caught a flight to Ireland for the entire semester. With this change in scenery, Peter tucked his head back in the books and studied accounting at the National University of Ireland, Galway. We are excited to see the great work Peter will do with our accounting team.
Joining Spartan's logistics department for the Summer, we welcome Eric VanValkenburgh. Erick is a Junior at James Madison University where he majors in marketing with a minor in history. Despite his Bel Air upbringing, he was drawn to Harrisonburg, VA for his undergraduate studies. When Eric isn't studying, you can find him on the Ultimate field playing cutter for the James Madison's Ultimate Frisbee team. Go Dukes! Back in 2015, Eric found himself reading the Baltimore Sun when he came across an article called, "Renovation of Former Aegis Building Begins" discussing how the building would be transitioning into Spartan Surfaces Corporate HQ. Eric has been interested in Spartan Surfaces since that day. While dealing in all things freight, Eric hopes to meet new people and gain more professional experience.
C. Milton Wright High School Alum turned year-round beach goer, Daniel Phillips, has joined Spartan's marketing team. After graduating high school, Daniel took everything he had down to Eckerd College in Saint Petersburg, FL where he is a Senior and majors in business administration with minors in marketing, leadership, and entrepreneurship. When he isn't at the beach or in class, Phillips is playing rugby for Eckerd's club team. He is the club's new captain and a two-time Collegiate South Regional All-Star. While interviewing for a position with Spartan Sports & Wellness, Daniel was asked to interview for the marketing internship with Spartan Surfaces instead because of his previous work experience. While promoting all things Spartan, Daniel hopes to gain knowledge, skills, and experience in different areas of marketing.
Travel enthusiast, Patrick Traynor has joined Spartan's customer service team for the Summer. In 2018, Patrick spent the summer in Italy where he attended the American University of Rome. When Patrick isn't in the office or at school, he may be visiting one of the thirty Major League Baseball stadiums across the country. He has been to every MLB stadium east of Arizona. That is a total of 23 stadiums! Traynor is a Senior at Clemson University where he studies marketing, finance, and accounting. He learned about Spartan Surfaces from his friend, fellow Clemson Tiger, and Spartan intern, Kyle Keating. While assisting Spartan's clients, Patrick hopes to gain insight into the operations of a B2B company as well as learn about working in a professional environment.
Spartan's distribution department has added Jake Rosaschi, a Towson University Senior, to its team for the Summer. Rosaschi will graduate this August after finishing his final credits in his business administration studies. Another traveling connoisseur, Jake recently took a cruise of the Mediterranean Sea where he visited Italy, Croatia, Turkey, and Greece. Domestically, Jake once had four separate mailing addresses in a four-month time span. After coming home from the cruise, some of his friends who workout at Spartan Sports & Wellness relayed the message to Jake that there was also a distribution company in the building which sparked his immediate interest. While dealing in Spartan's supply chain, Jake hopes to gain valuable insight into the management style and culture of a fast-growing company while establishing a strong work ethic that will aid Spartan Surfaces in achieving its goals.
Sports broadcaster, Matt Munson joined Spartan's warehouse team this year in late May. A rising senior, Matt attends Salisbury University on Maryland's eastern shore where he majors in communications and minors in athletic coaching. During the school year you can catch Matt broadcasting on the Salisbury Seagulls Sports Network for Salisbury's football, baseball, soccer, and lacrosse games. If you head down to the warehouse, you may hear Matt giving the play-by-play on each of the forklifts. Munson learned about the internship with Spartan from former Spartan interns and now current employees, Mike Boyko, Collin Keating and Connor LaPlante who passed along great reviews about their internship experiences. While assisting in managing the warehouse, Munson hopes to gain an understanding of the operational functions within Spartan Surfaces that make it such a successful company.
Spartan Surfaces has also brought on two recent High School graduates who will be part time at Spartan this Summer. The first of whom is Ryan Greezicki. Ryan recently graduated from Patterson Mill High School where in 2018, he was a 1A Soccer State Champion! In the Fall he will head to Blacksburg, VA to become a Hokie at Virginia Polytechnic Institute and State University where he will study real estate and construction engineering/management. In his free time, Ryan likes to juggle, play guitar, and rebuild cars in his garage. He heard about the internship program with Spartan Surfaces through Spartan Sports & Wellness as well as from family and friends. While traveling around from department to department, Ryan hopes to learn about all aspects of business operations so that he can one day start his own business.
Spartan's other High School intern is Sam Macatee. Sam graduated from North Harford High School in May and will attend the University of Maryland at College Park in the Fall where he will study finance. At North Harford, Sam was a three-sport athlete playing baseball, basketball, and football. An excellent athlete on the field and tremendous student in the classroom, Sam was awarded the Al Cesky Scholarship, collecting $5,000 towards his college tuition. Sam played on the same basketball team as Dylan Jablon and after researching the company, he knew he wanted to get involved. While learning the tricks of the trade, he hopes to learn something new from each department and to network with Spartan employees.
ABOUT SPARTAN
Spartan Surfaces is a specialty flooring distribution company headquartered in Bel Air, MD with showrooms in D.C., New York City, and Chicago. Its geography encompasses the East Coast from Florida through New York as well as regions in the Midwest and Southeast. With over 100 employees in 28 states, Spartan continues to expand its footprint. Taking a human-centered approach, Spartan prides itself on great people dedicated to great products, great families, great friendships and great happiness.