May 31, 2023
Mobile Showroom on the Move 2023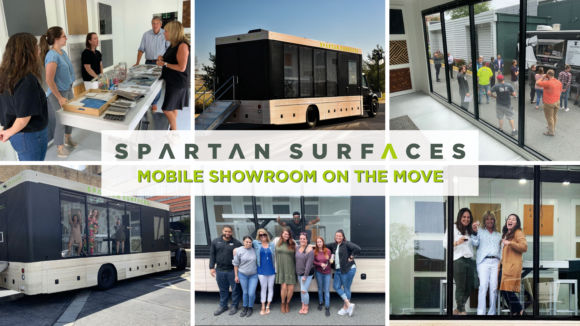 Spartan's Mobile Showroom is on the move! Take a peek at where we are headed and email any time to submit a request. We are always looking for new places to explore.
Bookings? Questions? mobileshowroom@spartansurfaces.com
JUNE 2023
Virginia | Connor LaPlante | June 7th – 8th
Chicago, IL | NeoCon | June 12th – 13th
JULY 2023
Minneapolis, MN  | Kate Koskey + Terry Hermanson + Bruce Twaddle + Brian Prevost + Kelly Dahl
AUGUST 2023
St Paul, MN  | MinneCon | August 1st
Denver, CO | Noah MacMillan
Southern California | Ish Calzada
SEPTEMBER 2023
Las Vegas, NV  | Carol + Ed Allworth
Arizona | Mike WIlson
OCTOBER 2023
Austin, TX | Rocky Tramonte
Houston, TX |  Mike Hurtado + Sherridan Rowe
Dallas, TX | Amber Bartlett
NOVEMBER 2023
Florida | Josh Judy + Kyle Keating + Hannah Verschoore + Bill Trimble  | November 1st  – 10th
Want to see the mobile showroom in action?  Check out the videos below!
Introducing Spartan's Mobile Showroom
Tour Spartan's Mobile Showroom
Mobile Showroom Year One in Review
Meet the Mobile Showroom Manager | Gerard Jones
Gerard Jones is the magic that keeps Spartan's mobile showroom rolling.  He is hardworking, kind-hearted and carries a positive attitude in everything he does.  His dedication is what makes our showroom on wheels possible.  Give him a thanks and a 👊 when you see him on the road.
Off the road, Gerard is a loving father of two boys and a dedicated coach.
2023 Stops in Review
March 2023
Norwalk, Connecticut | HMTX House on the Hill | 2pm on March 16th
Boston | Harpoon Brewery | Brett Berry | 2pm on March 29th
North + South Carolina | JR Foster + Shawn Campbell | March 27th – 31st
APRIL 2023
North + South Carolina | JR Foster + Shawn Campbell | April 3rd – 7th
Atlanta, GA | Collin Keating + Katie McGowan | April 17th – 21st
MAY 2023
Alabama + Tennessee | Julie + Craig Bruehl | May 8th – 12th

Cincinnati + Columbus, OH | Brandon Lyons + Stephen Stauch | May 22nd – 26th
ABOUT SPARTAN SURFACES
Spartan Surfaces, a subsidiary of Floor & Decor, is a specialty flooring supplier headquartered in Bel Air, MD. Employing over 150 team members, Spartan holds warehousing and offices in Maryland and Minnesota with showrooms in D.C. and Chicago.  Its geography encompasses seventy percent of the United States with continued expansion on the horizon. Taking a human-centered approach, Spartan prides itself on great people dedicated to great products, great families, great friendships, and great happiness. Whatever you're working on, we've got you covered!