February 28, 2019
Spartan DC Seeks Administrative Assistant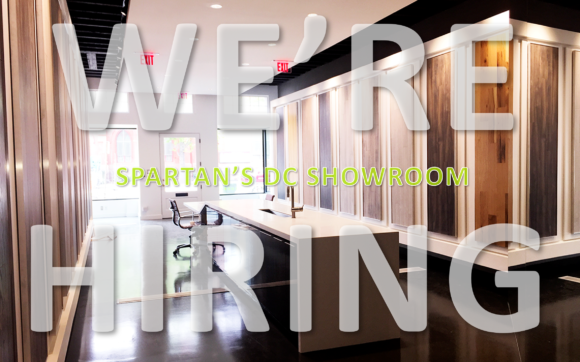 Spartan is on the lookout for an Administrative Assistant to help manage day to day operations within our DC Showroom at 1614 14th Street NW.
Spartan provides a wonderful work environment filled with a great group of individuals.  Corporate culture is team oriented and laid back, but fast paced with a high demand for positive attitude and work efficiency.  Our core value is We Over Me, and we live this every day. Spartan is looking for long term team players to grow with the company.  This position includes a competitive salary, full benefits and 401K.  You can read more about our company, employees and product offering on our website – www.spartansurfaces.com or our social pages: LinkedIn / YouTube / Instagram.
The Administrative Assistant must be a team player and interact well with fellow Spartan employees and customers alike.  The position requires one to maintain a professional image, exhibit excellent organizational skills, pay close attention to details and manage deadlines effectively.  The key responsibility will be managing the day to day needs of and providing support to our Sales Representatives.
A brief synopsis of responsibilities is highlighted below.  To apply, please email resume and brief introduction to JoinUs@spartansurfaces.com.
Job Duties:
Create and maintain reports in MS Excel and Word
Manage inboxes including editing and drafting outgoing emails
Manage travel
Manage expenses
Deliver samples to clients as needed
Order showroom supplies
Track sales and marketing campaigns
Research market segments and project opportunities
Help with personal tasks
Job Requirements:
Must have strong data entry skills with attention to detail
Excellent communication skills
Analytical, leadership, interpersonal, problem solving and organizational/time management skills
Working knowledge of Microsoft Windows, MS Word, Excel & PowerPoint
Professional telephone etiquette
Ability to work effectively with customers, vendors and employees while handling multiple tasks simultaneously
Must be able to pass company background criteria
ABOUT SPARTAN
Spartan Surfaces is a specialty flooring distribution company headquartered in Bel Air, MD with showrooms in D.C., New York City, and Chicago. Its geography encompasses the East Coast from Florida through New York as well as regions in the Midwest and Southeast. With over 100 employees in 27 states, Spartan continues to expand its footprint. Taking a human-centered approach, Spartan prides itself on great people dedicated to great products, great families, great friendships and great happiness.