April 28, 2020
Spartan Supports the COVID-19 Front Line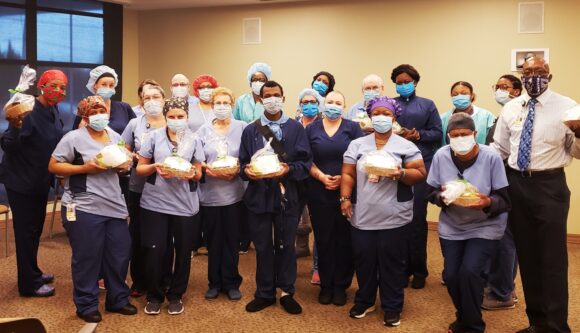 The COVID-19 pandemic hit the world hard and fast.  Within a matter of weeks, life as we knew it drastically changed.  As lockdowns and shelter-in-place orders forced many small businesses to close their doors for the unforeseeable future, Spartan Surfaces Founder, Kevin Jablon, knew he wanted to find a way to give back to those on the front lines.
After brainstorming, Spartan contacted VP and Executive Director of the Upper Chesapeake Health Foundation Ken Ferrara, who suggested we think of the Environmental Service workers at Upper Chesapeake and Harford Memorial Hospitals. The EVS team is responsible for maintaining a clean and safe environment for patients and staff daily. They are the behind-the-scenes unsung heroes who put themselves at risk to help others. We were thrilled and jumped at the opportunity to recognize them.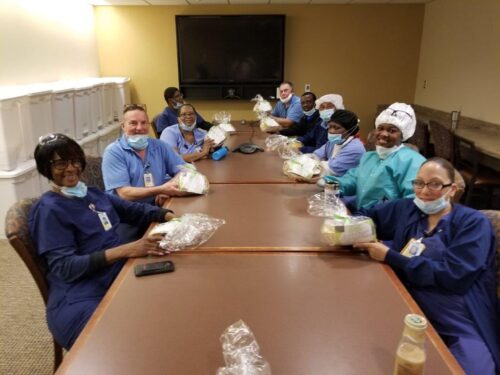 Spartan assembled and delivered 80 baskets for the EVS teams, including gift cards to local establishments and a DIY pasta dinner, to provide meals and other necessities for the workers and their families.
This was a team effort; we appreciate all who came together to make this a reality. A special shout-out to Klein's ShopRite for their support in our efforts, to our office manager, Michelle Schmand, for taking the lead on putting all baskets together, and our Logistics team, led by Chris Svrjcek, who made sure the baskets were delivered safely and on time to each location.
It was an honor to give back to the community, but we know that nothing could come close to the support given to all of us from essential workers. To those people, we are beyond grateful.
ABOUT SPARTAN
Spartan Surfaces is a specialty flooring distribution company headquartered in Bel Air, MD with showrooms in D.C., New York City, and Chicago. Its geography encompasses the East Coast from Florida through New York as well as regions in the Midwest, Southeast and Texas. With over 100 employees in 30 states, Spartan continues to expand its footprint. Taking a human-centered approach, Spartan prides itself on great people dedicated to great products, great families, great friendships and great happiness.