August 30, 2021
Flooring Answers: Stay Safe – The Evolution of Vinyl Safety Floor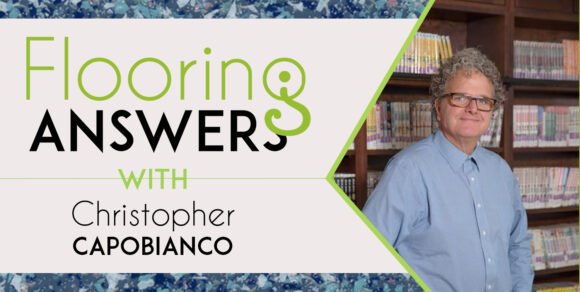 Yes, "Slip Resistant"Vinyl Safety Floor can still be beautiful.
Although it's not an "official" category of its own, for over 35 years, there has been a resilient flooring product commonly called "Safety Flooring." This material was developed in Europe as a resilient flooring option for wet slip resistance that is an alternative to quarry tile or poured epoxy. By incorporating an abrasive aggregate such as carborundum into a sheet vinyl floor, the material can improve traction, especially on wet floors. Because it can be easily coved up walls and has heat welded seams, it can take a lot of water on the floor end even be hosed down like those other materials.
"Sustainable Wet Slip Resistance" is a term often used to identify products where the "safety" characteristics won't wear off before the floor wears out.  I've seen several "slip resistant" Vinyl Composition Tile (VCT) floors where the surface abrasive layer wore smooth after just a few years. This is not what you'd call "Sustainable."  Many Safety Flooring products come from Europe, where standards for slip resistant floors are much more stringent than here in North America. The testing is also more stringent; it's not just a test of the floor when it's new. One such test is done by grinding down floor samples for over 50,000 cycles to simulate heavy wear. By testing again at this point, this assures that the floor will retain slip resistance as it wears and demonstrates the durability and depth of particles in the product.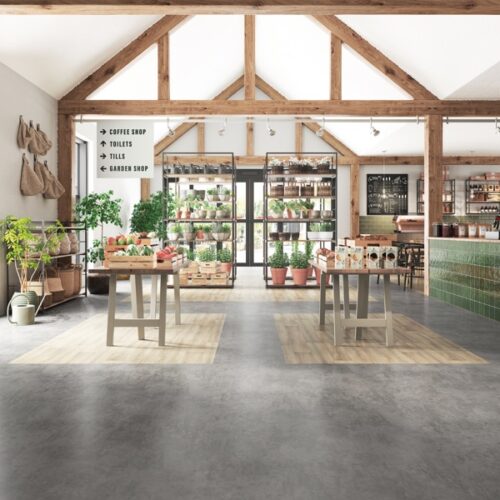 As far as testing, there is not a consistent method worldwide so that's lead to a lot of confusion. In North America, the method used for years tests Static Coefficient of Friction (SCOF). So, if you were standing still, the test would replicate the force required to move your foot across the floor. It really doesn't have anything to do with people walking and slipping, and it's a test that can only be done in a lab.  Other tests have been developed around the world to measure Dynamic Coefficient of Friction (DCOF), which measure an object in motion, more like a foot slipping on the floor.  The two most popular are the British Pendulum test and digital "drag-sled meters," both of which can be used in a lab or on an actual floor in use. DCOF testing is becoming more prevalent here, especially in the tile industry.
Those original safety floors got off to a slow start because there were very few colors, the aggregate looked like "black specks and glitter"  and the rough surface was not easy to clean. However, the material was a good solution for wet areas like commercial kitchens, buses and other wet areas plus ramps and inclined floor surfaces where traction is important.
The next generation of Safety Flooring incorporated UV Cured polyurethane reinforcement (PUR) that made it easier to clean, and thinner options were introduced that were a bit easier to install. These floors started to move into "front of the house" areas, but the "black specks and glitter" still limited it's use from a design point of view. While this material became more widely used in Europe, it was slow to grow for interior use here in North America, although the transportation industry uses a lot of it.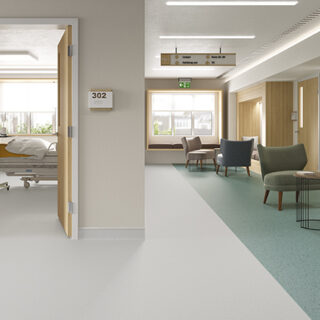 The next generation of Vinyl Safety Floor was more desirable from a design point of view, bringing it into more common commercial spaces like health care. By imbedding slip resistant particles like aluminum oxide that are almost invisible to the naked eye, safety floors were developed with a clear wear layer over printed visuals such as wood or stone looks. The floors have a more decorative appearance while maintaining the sustained slip resistance for underfoot safety. Manufacturers also developed products with special surface textures that can be used in barefoot areas like showers and around pools. Most recently, the Safety floor market has taken a step even further with the inclusion of colored quartz particles that are closely matched to the base color. These floors have the look of a smooth vinyl, with wide ranges of colors that are highly decorative but easy to clean and still very slip resistant when wet.
The traditional looking safety floor with carborundum is still available and widely used.  I think that sometimes their visible appearance calls attention to the floor in wet areas and may provide an added level of reassurance to the public.  However, with the newer technology and more decorative visuals, the old objection to their appearance is eliminated, so safety floors can be used in virtually any commercial or residential space and with the same performance. With so much emphasis on slip and fall protection in facilities such as health care facilities, schools and retail stores, the new products allow for great looking, cleanable floors that still are not as slippery as standard resilient floors when wet.
Explore all our Flooring Answer Articles
Explore all our Flooring Answer Videos
ABOUT CHRISTOPHER
Christopher Capobianco covers the NY Metro for Spartan.  He's a fourth-generation floor coverer whose family has been in the business since the 1930s. For 36 of the last 43 years, he's had roles in retail, distributor, and manufacturer sales.  The other seven years were spent in floor covering training and technical support.  He also has been a part time columnist for various flooring magazines since 1988 and is a long-time member of the ASTM Committee on resilient flooring. You can reach him here.