May 20, 2021
Adding Drivers on Deck, Spartan Welcomes Flythe and Pleitez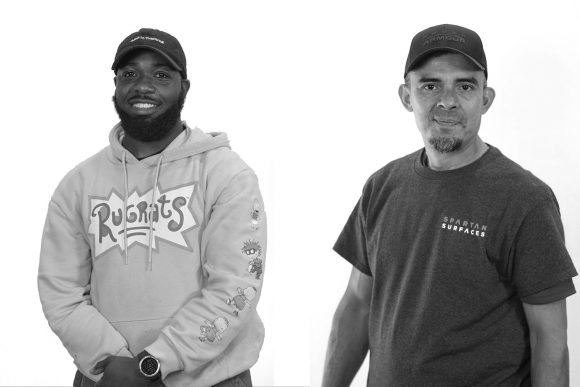 Joining Spartan Distribution as Commercial Drivers effective May 2021, we're excited welcome James Flythe (left) and Fredy Pleitez (right) to the team. Both Pleitez and Flythe will be working under the leadership of Logistics Manager Chris Svrjcek, with day-to-day responsibilities of making product deliveries throughout our tri-state distribution area.
Joining Spartan on May 17th, James Flythe is ready to put his military background to work in all capacities. He can drive anything, talk to everyone, and he never misses the little details. For Flythe, growth is the name of the game. He's always learning new things and acquiring new skills and has a love for teaching others. When asked, Flythe said he's most excited to join Spartan for our company culture.
"Since the first time I walked into Spartan Surfaces I knew it was where I wanted to work," said Flythe. "Everyone seemed happy to be there. I'm looking forward to building relationships with people that go beyond work just like family."
Coming to the team on May 3rd with 12 years' experience in commercial deliveries, Fredy Pleitez comes to the team knowing how to make deliveries happen and make every need met. Having worked with Chris Svrjcek in a previous position, Pleitez is excited to be back on Chris's team in a dynamic new work environment. He's a social butterfly who's excited to meet clients and make every delivery a positive, energetic experience for our customers.
Please join us in welcoming Fredy and James to the Spartan family.
ABOUT SPARTAN
Spartan Surfaces is a specialty flooring distribution company headquartered in Bel Air, MD with showrooms in D.C. and Chicago. Its geography encompasses the East Coast from Florida through New York as well as regions in the Midwest, Southeast and Texas. With over 100 employees in 30 states, Spartan continues to expand its footprint. Taking a human-centered approach, Spartan prides itself on great people dedicated to great products, great families, great friendships and great happiness.