September 7, 2022
Show School Pride with Flooring Palettes to Support Every Color Combination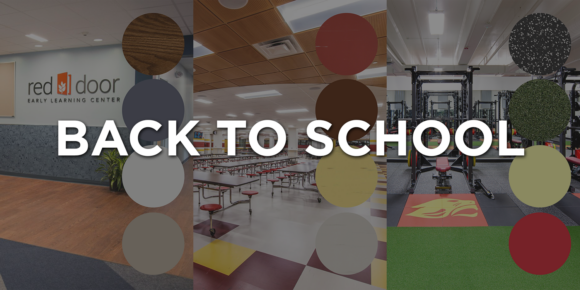 From floor to ceiling, every square foot is a great place to show off school pride 🌈 . Celebrating back to school 🖍️✏️ with our favorite school color flooring palettes showcases – check out these education installs designed to leave a lasting palette 🎨impact.
Designed by GWWO Architects, Crofton High School encompasses a massive 276,000 square-foot building. This includes new classrooms built for different learning types, modern study spaces providing group collaboration or individual focus, sustainable materials to show support for environmental learning and energy conservation, and an abundance of natural light as it's been shown to reduce stress and improve learning.
Every inch of the facility was designed with purpose, from its outdoor amphitheater to its dual teaching walls. Installed throughout hallways, corridors, and classrooms, Kahrs Upofloor Quartz brings Crofton's school colors to life from ceiling to wall to floor. Contributing to the school's Silver LEED Certification, this quartz tile is often chosen for its durability, ease of maintenance, and vast color options.
Opening its doors virtually in 2020, Crofton High began in person learning for grades 9-11 in 2021 while seniors stayed virtual until 2022.
In need of a complete cafeteria renovation, Schaumburg High School brought in ARCON Associates for a redesign of their space in 2016. Completed in time for the start of the 2017 school year, the cafeteria and kitchen area boast school colors and efficiency. Creating a restaurant-type ambience, ARCON designed the space to have a variety of seating options from bar seating to picnic style, to hightop. The kitchen was designed to allow for healthy foods to be displayed in a way that could promote healthier eating and provide a seamless passing of food to students for quicker lines and easier work for cafeteria staff. Rikett's quartz tile was chosen for the flooring for its variety of color options and supreme durability.
Designed and unveiled for the fall 2019 school year, the Goshen Central High School addition features 15,000 square feet of new space. From a STEAM lab designed for creative learning, to open collaboration spaces and classroom flooded with natural light to boost positive learning experiences, to brand new athletic facilities, this project designed by LAN Associates was completed in under two years and opened the school up to new opportunities for learning and activity. In 2020, LAN's innovation on this project landed them the Outstanding Project Award from Learning by Design Magazine.
Anne Arundel County Public School, Belle Grove Elementary offers education to more than 180 students in pre-kindergarten through grade five. Its academic curriculum includes language arts, math, science and social studies, along with physical education, health, art, music, and technology. GWWO chose Procedo Versa Quartz for its durability and bright colors. Even the floor is showing Blue & White Falcon pride!
Home to the locally renowned Chaparrals, College of DuPage strives for excellence in the classroom and on the field. Driven by the school's national ranking in community college athletic programs, Edge Design drafted a space to reflect their hard work.  Due to aggressive athletic activity, it was requested that 40% of the flooring be a resilient rubber to withstand the high impact. When challenged with finding a flooring solution that not only withstands foot traffic from cleats and aerobic activities but is also visually appealing, EcoSurfaces stood tall among the rest.  Collaboration between Edge Design and Vortex provided a floor plan that utilized vibrant colors to create inlays of various shapes to help divide the great space, creating a Phys Ed center that the Chaparrals and visitors can be proud of.
Built over the dated pool and bleachers, Concordia University Chicago's Fitness Center includes cardiovascular fitness, resistance training, and athletic conditioning spaces. Holabird & Root worked with members of the CUC Athletics Department to utilize numerous types of flooring including, EcoSurfaces Ultra Tile, TURF, and Custom Cut Logos. The fitness center was created as a space fit for off-season training programs and follows the schools three concentrations: wellness, academics, and athletics.
Nine months after breaking ground, Rockford University presents the new Seaver Center for the start of the 2020 Fall semester – 3,800 additional square feet of fitness space, equipped with EcoSurfaces custom rubber tiles that are ready for weight drops and heavy foot traffic. Designed by Larson & Darby Group, the new facility also includes additional classroom space for the school's rapidly expanding population, and allows for growth of physical education and sciences. Shoutout to Kelli Mildren for working to find the right rubber for the job!​
In need of a larger space to accommodate growth, the Red Door Early Learning Center bought their new space in 2016 and charged Alloy5 with the design. Creating a space with early development in mind, Alloy5 committed to using bright colors and interesting shapes throughout to help stimulate the five senses. Centering around a main playroom, the colorful themes fan out into each room to create easy flow, with hallways and corridors outfitted in calming neutrals and blues. AVA by Novalis DSGN collection was used for their hardwood looks throughout hallways, and the SPRK collection used in classrooms and the main playroom to accentuate bright colors and stimulate play.
Take a look at other Education Projects
ABOUT SPARTAN
Spartan Surfaces is a specialty flooring distribution company headquartered in Bel Air, MD with showrooms in D.C. and Chicago. Employing over 100 team members, its geography encompasses three-fifths of the United States with continued expansion on the horizon. Taking a human-centered approach, Spartan prides itself on great people dedicated to great products, great families, great friendships, and great happiness.