April 1, 2019
Company Culture Makes the Sale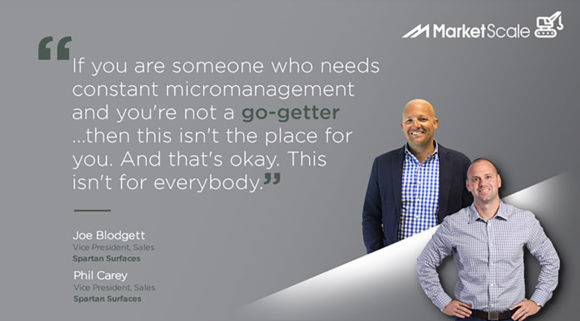 When asked by MarketScale to collaborate on a podcast, Spartan's VP's,  Joe Blodgett and Phil Carey dove into this new medium head-on. Driving the podcast by what motivates Spartan, Blodgett and Carey discuss what we consider to be our expertise and reason for success: culture.  Listen in for a deep dive into what drives our culture and how we count our successes from the inside, out. Spotify // iTunes
Over Products and Prices, Company Culture Makes the Sale, with Spartan Surfaces // By Daniel Litwin
It's no secret that life in AEC can be competitive. Products start to look similar, applications can only get so inventive…what can a company do to make their products and staff stand out among the competition? Company culture may hold the key.
On this episode of the AEC Podcast, we sit down with Joe Blodgett and Phil Carey, Vice Presidents of Sales for Spartan Surfaces, who explain why to their company, company culture and client relationships are of utmost importance. Blodgett and Carey are proud that Spartan knows that company culture starts at the very top, and Spartan's leaders have instilled their vision of what the culture of the company would be since day one: people are important, and the company is built on relationships.
Spartan believes that in an industry like AEC, struggling with talent retention and recruitment, where there are so many similar product lines with similar price points, company culture is crucial to stand out. There needs to be something else to differentiate those products, and for Spartan, it's the person selling them. When Spartan brings on new people, they evaluate whether they are a fit for the fun, energetic, culture where employees strive to be the best at everything they do.
"We always try to push our people to be great, and not just be average," Carey said. "We send out numbers at the end of every day to boast about what people have been able to do so that new folks can see what they're able to achieve if they put their hearts and minds into it."
And people are truly encouraged to succeed because there's no script on how to work at Spartan. "Everybody gets the opportunity to be an entrepreneur and have their own vision and their own brand and personality." Because likability is so important to instill a good client relationship, Spartan want employees that people want to be around and who can be fun to hang out with.
Spartan even invites recruiters to their social functions to get a feel for the unique corporate culture, and it's made a difference in how they've sent over prospects. Instead of just sorting by credentials, they also make a point to look at the personality of the prospective employees and how they'll fit within this culture. And, so far, it's working, because in the 11 years that Blodgett and Carey can recall working with Spartan, they've never had an employee leave for a lateral move to another company.
ABOUT SPARTAN
Spartan Surfaces is a specialty flooring distribution company headquartered in Bel Air, MD with showrooms in D.C., New York City, and Chicago. Its geography encompasses the East Coast from Florida through New York as well as regions in the Midwest and Southeast. With over 100 employees in 30 states, Spartan continues to expand its footprint. Taking a human-centered approach, Spartan prides itself on great people dedicated to great products, great families, great friendships and great happiness.