July 26, 2022
Flooring Answers: Safety Floor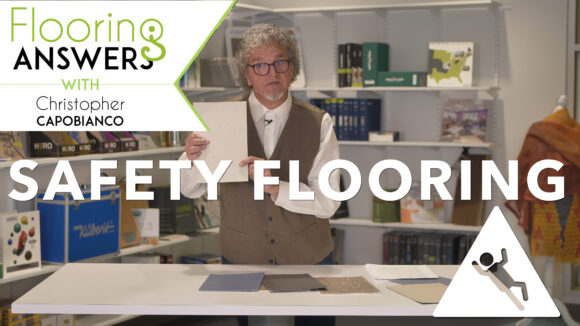 Our focus this month is safety flooring. It's a topic that draws a lot of attention due to growing worries about slip resistance and costs. Safety flooring is key in maintaining a secure and practical space. It mixes good looks with the need for safety, especially in places where slipping can be a risk. So, let's take a closer look at safety flooring and its many uses!
Spartan Surfaces Christopher Capobianco, aptly named the Cork Dork of New York is our resident expert in the field. Here is a video that details the information available below.
What is Safety Flooring?
Safety flooring, a subgroup within the resilient sheet vinyl flooring family, isn't an entirely separate category. This flooring type, introduced in Europe around 40 years ago, now adheres to strict slip resistance regulations in the United States.
Safety Flooring Production
The production process of safety flooring involves embedding an aggregate into a standard homogeneous sheet vinyl product. This process gives the floor a textured surface, providing firm grip even on wet floors. Early safety flooring designs used carborundum as the aggregate, creating a speckled, sparkly appearance. You may recognize this in high-traffic areas such as public transportation hubs.
Aluminum Oxide in Safety Flooring
As technology advanced, less visible aggregates such as aluminum oxide began to be used. This nearly transparent aggregate provides necessary slip resistance and blends seamlessly with wood grain prints or clear protective layers.
Colored Quartz in Safety Flooring
Colored quartz presents a modern and stylish alternative. Used as an aggregate, it closely matches the color of the vinyl. This technique offers excellent slip resistance without sacrificing aesthetic appeal.
Caring for Safety Floors
Some safety floors, especially those with highly textured surfaces, can be challenging to clean. These surfaces are common in high-use areas like commercial kitchens. Here, cleaning methods like hosing down or power washing are frequently used. For general areas, manufacturers treat products with a polyurethane surface treatment – polyurethane reinforcement (PUR). This treatment makes cleaning easy and maintains slip resistance by preventing dirt from penetrating the vinyl surface.
Safety Floor Durability: Fact or Myth?
A common misconception exists that safety floors degrade over time. The reality is, however, that the right product provides sustainable slip resistance that permeates throughout the material's thickness. European-made safety flooring, in fact, must undergo tests that simulate wear and assess slip resistance before and after use. These tests ensure that the slip resistance does not diminish over time.
This article provides a detailed overview of safety flooring. Have more questions on safety floor? Contact us today for us to guide and assist you in understanding and choosing the right safety flooring for your needs.
About Christopher Capobianco
With decades in the industry and a mass of knowledge and experience, Christopher Capobianco began Flooring Answers with Spartan in 2021. After a year of "how-to's,""top 5's," and "best ways to," we are excited to unveil Flooring Answers Video edition!
For projects that require a bit more care, Christopher is here to explain the benefits of a tried and true safety floor. From safety floor creation to installation, you can expect to learn the ins and outs in under four minutes.
Have more questions on safety floor? You can shoot questions or new topic requests to social@spartansurfaces.com.
More of a reader than a watcher? Check out Christopher's Safety Floor article, Stay Safe: The Evolution of Vinyl Safety Floor.
Explore all our Flooring Answer Articles