July 28, 2022
From Coffee to Customer Service, Leif McCurry joins Spartan Surfaces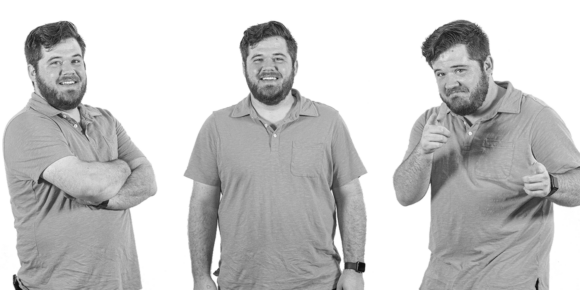 Effective July 18th, Spartan welcomed Leif McCurry to HQ's Customer Service team. As part of the Northeast Orders team, Leif will learn the ropes from Team Lead Adam Holland, working alongside teammates Cooper and Matt. His day-to-day will include handling orders from validation to completion.
No newby to customer care, Leif comes to Spartan with more than 6 years experience in management. His latest from CoffeeBar Bel Air. His problem-solving skills and ability to handle every situation with kindness will set him up for his new role. When asked about his position, Leif said "I'm most excited about being a part of a close-knit team of driven people." Leif continued to say that the teams' professional attitudes and personalities bring about a productive and welcoming environment.
Outside of work, Leif is a proud theatre nerd. With a degree Theatre Arts, Leif spends his free time acting, writing, and directing stage and film projects. Check out photos from his most recent role as Frankenstein in Street Lamp Production's Young Frankenstein, and keep up with his new work through their website!
Please join us in welcoming Leif to the Spartan family!
ABOUT SPARTAN
Spartan Surfaces is a specialty flooring distribution company headquartered in Bel Air, MD with showrooms in D.C. and Chicago. Employing over 100 team members, its geography encompasses three-fifths of the United States with continued expansion on the horizon. Taking a human-centered approach, Spartan prides itself on great people dedicated to great products, great families, great friendships, and great happiness.