June 9, 2021
Making Internal Shifts, Spartan Elevates Long Time Team Members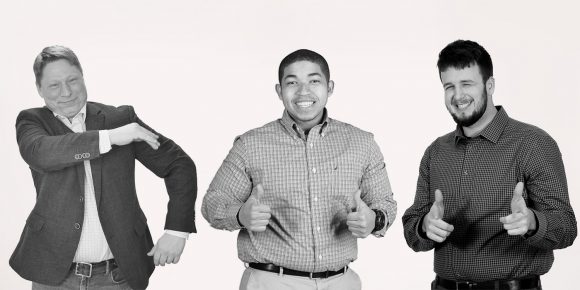 Here from the get-go, Doug Hentz has been an integral part of Spartan's business since 2007.  Once a team of one, Hentz grew the existing customer service department from the ground up.  After 13 years of making things hum on the customer side of Spartan, Doug is making a big move to join our Supplier Relations Team.
Taking on the new role of Operations Manager of Supplier Relations, Hentz will be building upon the groundwork begun by Supplier Relations VP Joey Lester and Supplier Relations Manager Elizabeth Hart to support future growth.
"Although it's bittersweet to move on from customer service, I'm thankful for the opportunity and I look forward to applying my skills and experience in the next phase of my career with the Supplier Relations department," Hentz says of his decision to take on the new role.
Lester notes, "Doug has been an integral part of the growth of Spartan Surfaces since its inception. His knowledge, experience and expertise will take our Supplier Relations Team to another level."
With Doug's move brings new opportunity for long time quoters, Ryan Paige and Trevor Campbell. Elevating Ryan to Customer Service Manager for the quotes team, Paige is shifting from a comanager role alongside Doug to the sole manager of the department.  With this shift, Ryan is the ultimate quality control for quotes and communication with clients. Promoted to Senior Quotes Specialist, Trevor will support Ryan in managing the day-to-day responsibilities of the quoting team. As the liaison for Spartan reps and key customers, Ryan and Trevor play a huge role in creating customer satisfaction and long-term loyalty generating future business.
Excited for the shift, VP of Operations Ben Garback notes, "Ryan and Trevor's years of experience and proven track record have prepared them for success in their new roles and I look forward to their future growth."
ABOUT SPARTAN
Spartan Surfaces is a specialty flooring distribution company headquartered in Bel Air, MD with showrooms in D.C. and Chicago. Employing over 100 team members, its geography encompasses three-fifths of the United States with continued expansion on the horizon. Taking a human-centered approach, Spartan prides itself on great people dedicated to great products, great families, great friendships and great happiness.