June 6, 2019
Spartan Redefines Commercial Distribution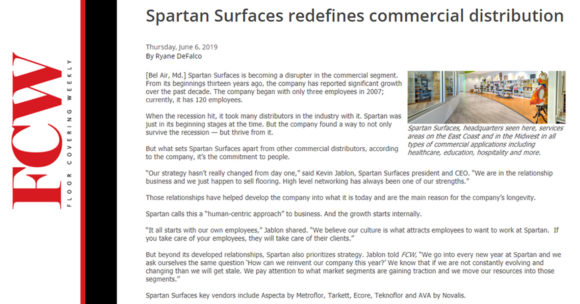 Spartan Surfaces CEO, Kevin Jablon, sat down with Floor Covering Weekly to give the inside scoop on what sets Spartan apart from its competitors. Laying out the key differences, Jablon explained that it's all about people and relationships rather than strategy. This is deeply embedded in the Spartan culture and is what makes Spartan Surfaces more than just a commercial distributor.  Read the story below or click to view Ryane DeFalco's full write up – Spartan Surfaces Redefines Commercial Distribution.
Floor Covering Weekly // Spartan Surfaces Redefines Commercial Distribution
Thursday, June 6, 2019 // By Ryane DeFalco
[Bel Air, Md.] Spartan Surfaces is becoming a disrupter in the commercial segment. From its beginnings thirteen years ago, the company has reported significant growth over the past decade. The company began with only three employees in 2007; currently, it has 120 employees.
When the recession hit, it took many distributors in the industry with it. Spartan was just in its beginning stages at the time. But the company found a way to not only survive the recession — but thrive from it.
But what sets Spartan Surfaces apart from other commercial distributors, according to the company, it's the commitment to people.
"Our strategy hasn't really changed from day one," said Kevin Jablon, Spartan Surfaces president and CEO. "We are in the relationship business and we just happen to sell flooring. High level networking has always been one of our strengths."
Those relationships have helped develop the company into what it is today and are the main reason for the company's longevity.
Spartan calls this a "human-centric approach" to business. And the growth starts internally.
"It all starts with our own employees," Jablon shared. "We believe our culture is what attracts employees to want to work at Spartan.  If you take care of your employees, they will take care of their clients."
But beyond its developed relationships, Spartan also prioritizes strategy. Jablon told FCW, "We go into every new year at Spartan and we ask ourselves the same question 'How can we reinvent our company this year?' We know that if we are not constantly evolving and changing than we will get stale. We pay attention to what market segments are gaining traction and we move our resources into those segments."
Spartan Surfaces key vendors include Aspecta by Metroflor, Tarkett, EcoSurfaces, Teknoflor and AVA by Novalis.
ABOUT SPARTAN
Spartan Surfaces is a specialty flooring distribution company headquartered in Bel Air, MD with showrooms in D.C., New York City, and Chicago. Its geography encompasses the East Coast from Florida through New York as well as regions in the Midwest and Southeast. With over 100 employees in 27 states, Spartan continues to expand its footprint. Taking a human-centered approach, Spartan prides itself on great people dedicated to great products, great families, great friendships and great happiness.