June 7, 2023
Spartan Surfaces Acquires Salesmaster Flooring Solutions To Expand Commercial Business In The Northeast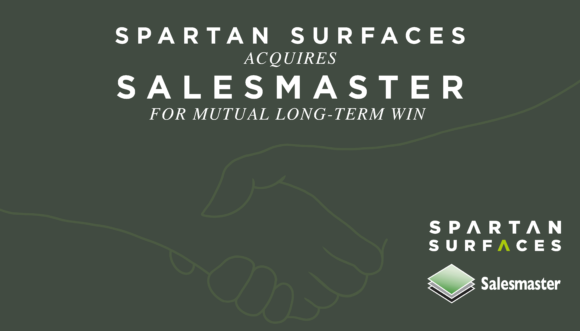 Atlanta, GA, June 7, 2023 – Floor & Decor (NYSE: FND) today announced its wholly owned subsidiary Spartan Surfaces had acquired Salesmaster Flooring Solutions, a leading flooring and installation supplies distributor servicing the Northeastern part of the United States. Headquartered in Deer Park, New York, the company has approximately 80 employees and will operate as a part of Spartan Surfaces.
"I've admired Salesmaster's business for years," notes Kevin Jablon, CEO of Spartan Surfaces. "Their unmatched flooring contractor relationships, coupled with their know-how of navigating the New York metro area and winning culture, has always stood out in the industry. Combining the companies is an exciting milestone in Spartan's business and significantly expands our presence in the large and highly fragmented New York City and New England markets."
"This merger represents a significant step forward for our organization and all our dedicated employees. Working together will allow us to harness substantial synergies between our companies. Leveraging increased purchasing power, inventory levels, logistics, and customer service will ultimately enhance the value we deliver to our customers," notes Salesmaster President, Steve Kurtz.
The transaction closed June 7th and is not expected to have a material impact on Floor & Decor's fiscal 2023 second quarter or full year 2023 financial results. Terms of the transaction were not disclosed.
SEE IT IN THE NEWS
About Spartan Surfaces
Spartan Surfaces, a subsidiary of Floor & Decor, is a specialty flooring supplier headquartered in Bel Air, MD. Employing over 150 team members, Spartan holds warehousing and offices in Maryland and Minnesota with showrooms in D.C. and Chicago.  Its geography encompasses seventy percent of the United States, with continued expansion on the horizon. Taking a human-centered approach, Spartan prides itself on great people dedicated to great products, great families, great friendships, and great happiness. Whatever you're working on, we've got you covered! To learn more visit, www.spartansurfaces.com.
About Salesmaster Flooring Solutions
Founded in 1961, Salesmaster Flooring Solutions has grown into one of the United States' leading flooring and installation supplies distribution companies. Through its Architect and Design Division, Salesmaster acts as a liaison between the architectural and design community, the flooring contractor, and the end user. The company assists all parties in making the proper specification for every application. For more information, visit www.salesmaster.com.
About Floor & Decor
Founded in 2000, Atlanta based Floor & Decor is a leading, high-growth specialty retailer of hard-surface flooring, operating 194 warehouse stores and five design studios across 36 states as of March 30, 2023. The stores offer the industry's broadest in-stock assortment of tile, wood, laminate, vinyl, and natural stone flooring along with decorative and installation accessories and adjacent categories. The stores also offer free design services and a dedicated pro sales team. Products are directly sourced from manufacturers around the globe, which enables it to bring the world's best and most innovative flooring trends to its customers, at everyday low prices. Floor & Decor has locations nationwide, but each store is bolstered by a local focus that creates a unique store experience and mix of products that meet the needs of each market served. For more information, visit www.flooranddecor.com.