December 13, 2021
Spartan's National Sales Meeting 2021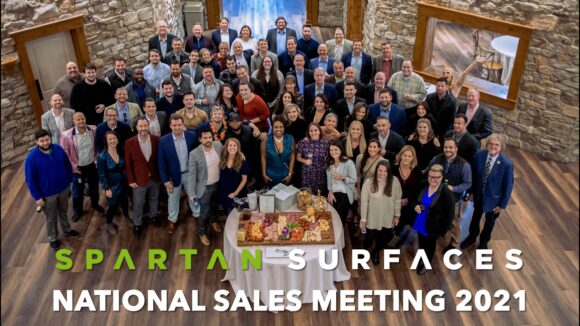 To be together. To reconnect. To laugh and cry. To learn from our peers who we admire and respect. To step back from the grind and celebrate our successes. It was a week to remember and one we are so grateful we were able to have.
Cheers to our deserving friends and teammates on their well earned recognition 🤜💚🤛!
We Over Me: Mike Thomas
Innovator of the Year: Rick Rollins
Actor of the Year: Brady Purcell (For We've Got You Covered!)
Rookie of the Year: Gerard Jones
Comeback Player of the Year: LeeAnn Hoerr + Michelle Maggio
Mentor Award: Gabrielle Amig
Rising Star: Collin Keating
Distribution Sales Person of the Year: Ray Szech
Customer Service Salesperson of the Year: Ryan Paige
A&D Salesperson of the Year: Colin O'Donnell
Ring of Honor: Danny Boyle + Kevin Dunn
Thank you to Vignon Manor for the beautiful atmosphere, Joe Larson for the laughs and five-star MC, Rouge Catering for the amazing food and beverage, and Harford Sound for the production support.
ABOUT SPARTAN
Spartan Surfaces is a specialty flooring distribution company headquartered in Bel Air, MD with showrooms in D.C. and Chicago. Employing over 100 team members, its geography encompasses three-fifths of the United States with continued expansion on the horizon. Taking a human-centered approach, Spartan prides itself on great people dedicated to great products, great families, great friendships, and great happiness.