December 22, 2022
Spartan's National Sales Meeting 2022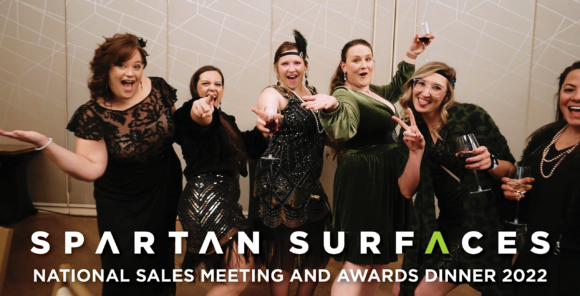 Celebrating another year of success, our team came together for Spartan's National Sales Meeting. For a team who writes for a living, we lose words when it comes to the love we have for our whole crew 💚. We spent last week laughing, crying, sharing stories, welcoming newcomers, and coming away with the thought that two days is never enough time together.
We rounded out Spartan's National Sales Meeting with our annual awards dinner, shouting out those who consistently floor the rest of us with their talent, knowledge, and care. Please take a moment to congratulate the well-deserved winners ⭐🏆, listed below.
We Over Me 🤜💚🤛: Chris Svrjcek & Chuck Schillaci 
Innovator of the Year 🧠💡: Kori Hawkins
Actor of the Year 👨‍🏫📹🎬: Christopher Capobianco
Explore his series, Flooring Answers!
Rookie of the Year ⚾️: Mike Hurtado
Comeback Player of the Year 🔄🔝✅: Katie McGowan
Grit & Grind Award 💪👊: Kelli Mildren 
Double D Award (Dedication & Dependability) Award 🎯💯: Abigail Brobst
Mentor Award 🤝: Kevin Dunn
Rising Star ✨🌟💫: Cooper Andrus
Region of the Year 🌎: Southeast
Customer Service Person of the Year 📞💻 📧: Mike Lavrich
MVP Top A&D Salesperson of the Year 🏆🥇👏: Shawn Campbell
Ring of Honor 😇: Joey Lester
We're so proud and lucky to have such an incredible team. Please take a moment to congratulate those who won an award this year!
ABOUT SPARTAN SURFACES
Spartan Surfaces, a subsidiary of Floor & Decor, is a specialty flooring supplier headquartered in Bel Air, MD. Employing over 150 team members, Spartan holds warehousing and offices in Maryland and Minnesota with showrooms in D.C. and Chicago.  Its geography encompasses seventy percent of the United States with continued expansion on the horizon. Taking a human-centered approach, Spartan prides itself on great people dedicated to great products, great families, great friendships, and great happiness. Whatever you're working on, we've got you covered!