January 11, 2022
Spearheading the Relaunch, Spartan Surfaces takes ECOsurfaces National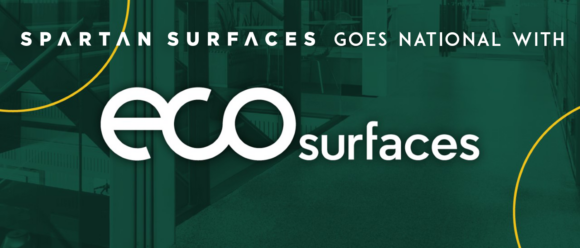 After years of valued partnership, ECORE is relaunching the ECOsurfaces brand, giving Spartan Surfaces national rights to the comprehensive performance flooring line.  Read the full release below!
Ecore Partners with Spartan Surfaces to Relaunch ECOsurfaces Performance Flooring Line
Collaboration Reinforces Legacy and Commitment to Sustainable Surfaces for A&D Community
Ecore, a company that transforms reclaimed materials into performance surfaces, has partnered with Spartan Surfaces to relaunch its successful ECOsurfaces line of products. The collaboration with Spartan Surfaces, a specialty flooring distribution company showcases Ecore's commitment to the design community and its longstanding dedication to promoting a more sustainable environment.
"ECOsurfaces has always been our environmental banner to the A&D Community. This strategic collaboration reinforces our commitment to a circular business model and elevates our commitment to being a leader in creating floors that do MORE for both people and the planet," said Bo Barber, executive vice president of sales and marketing at Ecore. "The support of Spartan Surfaces, a major player in the commercial flooring industry, puts significant momentum behind this already successful collection by making it more readily available to the A&D community."
A staple of the commercial flooring market for more than 30 years, ECOsurfaces is a distinctive collection of performance surfaces ideal for virtually any commercial application. Developed with reclaimed materials, these sustainable surfaces have all the durability and ease of maintenance associated with hard surfaces in an eco-friendly and versatile alternative.
"ECOsurfaces was originally created to directly address the needs of the architect and design community for environmentally friendly products and this re-launch really signifies our commitment to the critical role that design plays in the evolution of commercial construction," noted Barber. "As an industry leader in recycled products technology, growing the ECOsurfaces brand furthers our company's pursuit of a more circular economy and a world free of rubber waste."
"Spartan Surfaces has enjoyed a long and successful partnership with Ecore and its products. Together we have pioneered a greater environmental awareness in the commercial community. The re-launch of ECOsurfaces not only strengthens this partnership, but it also will play right into our strengths of building relationships with the end user and design community," said Sean Swanson, Spartans Surfaces' Vice President of Strategic Growth.  "The ECOsurfaces brand will be a key product in our expansion plans across the US."
The ECOsurfaces portfolio consists of Aurora, ECOsilence, ECOsurfaces, Origins, and Rx commercial flooring products:
"Our ECOsurfaces products are manufactured in U.S.-based, state-of-the-art facilities with a focus on continually improving efficiency, sustainability, and responsible resource management," added Barber. "Furthermore, Ecore's manufacturing process has virtually no waste. Scrap material from production is collected and recycled back into our system because rubber can be continually recycled and does not degrade through the recycling process like other materials such as paper or plastics."
Leading the collaboration with Spartan Surfaces is Jere L'Heureux, who recently joined Ecore as Director of Sales, Agent Network. Having spent his entire career serving the A&D community, L'Heureux was recruited by the company specifically to oversee the ECOsurfaces program and manage the distributor partnerships.
To learn more, visit ecosurfaces.com
Get Inspired with ECOsurfaces References
See it in the news!
About Spartan Surfaces
Spartan Surfaces is a specialty flooring distribution company headquartered in Bel Air, MD with showrooms in D.C. and Chicago. Employing over 100 team members, its geography encompasses three-fifths of the United States with continued expansion on the horizon. Taking a human-centered approach, Spartan prides itself on great people dedicated to great products, great families, great friendships, and great happiness. For more information, visit www.spartansurfaces.com.