October 3, 2022
Completing their Midwest Footprint, Spartan Acquires HiLine Inc.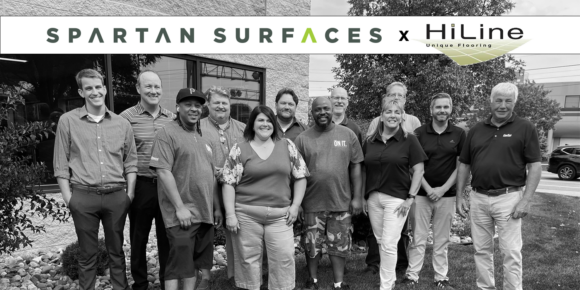 Effective September 30th, 2022 Spartan Surfaces has acquired HiLine Inc. Since 1979, HiLine has serviced the flooring trade as well as the commercial specifiers and end users.  HiLine has made it their mission to partner with top suppliers, providing their clients with the best solutions and service. Based in Minneapolis, HiLine covers Minnesota, Wisconsin, Dakotas, Iowa and Nebraska. Spartan welcomes their team, adding warehousing, sales, and support staff to their Midwest operations.
Terry Hermanson and Brian Prevost took over day-to-day business operations in 2016. When asked about the acquisition, Partner Brian Prevost commented, "HiLine and Spartan have built their business focusing on the commercial market. We understand the needs of the client, we have earned their confidence, trusting us to recommend the right products."
"New products, pricing advantages, and superior logistics make this a very exciting endeavor," states Partner Terry Hermanson. Combining our local knowledge and relationships, the Spartan acquisition will allow us to provide an unmatched experience for our clients.
"It's rare that you find an organization that has warehousing, logistics and also knows how to engage the commercial specifiers at a high level."  Mike Blasek, VP of Sales expands, "HiLine has a well-balanced approach to the market; they are equally strong calling on the A&D community as they are at servicing the flooring contractor.  Terry and Brian's team have built a great business, adding our Spartan fuel, this territory will burn even brighter. "
Join us in celebrating this milestone in Spartan's growth and welcoming the valuable group from HiLine flooring to our team.
SEE IT IN THE NEWS
ABOUT SPARTAN
Spartan Surfaces, a subsidiary of Floor & Decor, is a specialty flooring supplier headquartered in Bel Air, MD. Employing over 150 team members, Spartan holds warehousing and offices in Maryland and Minnesota with showrooms in D.C. and Chicago.  Its geography encompasses seventy percent of the United States with continued expansion on the horizon. Taking a human-centered approach, Spartan prides itself on great people dedicated to great products, great families, great friendships, and great happiness. Whatever you're working on, we've got you covered!