July 13, 2022
Launching Spartan Hospitality with Vincent Dimino at the Helm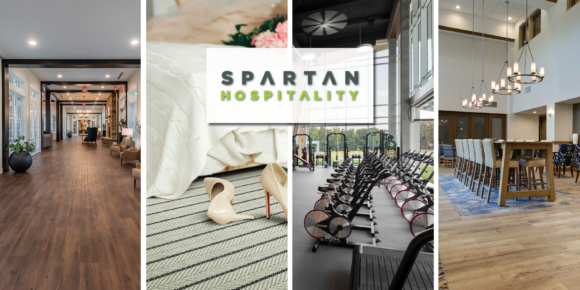 Ready to out-service the hospitality industry, we welcome Vincent Dimino. With an official start date of March 7th, Dimino has spent the past four months helping build out a new division, Spartan Surfaces Hospitality.
Bringing a curated assortment of exclusive products on a national level, Spartan's Hospitality division is taking a fresh approach to servicing the needs of the market.  With competitive stocking positions and an assortment of goods to meet the aesthetic and performance demands of every space, we look forward to creating a seamless path to procurement and design for these valuable clients.
"Vinny opened my eyes to the complexity and layers of the hospitality market.  He built a division at his previous employer the old fashioned way of grinding the streets and building a name for himself," said Spartan's Senior Vice President, Joe Blodgett. "I respect that hustle and his accomplishments."
After 20+ years servicing the underlayment needs of his clients, Dimino is excited for the shift and a new challenge, saying "being able to bring Spartan Surfaces' superior customer experience into the hospitality segment is an amazing opportunity. As the hospitality segment continues to evolve, Spartan is poised to be a game changer."
Vincent will lead this new division with four-year Spartan veteran, Leslie Anderson. Carrying two decades of valued relationships, Anderson has done a fantastic job introducing Spartan to the hospitality industry.  Her efforts have laid the groundwork that will allow us to begin this new chapter.
This marks the beginning of a national rollout with plans to saturate the US with focused hospitality representation. As the division grows, we look forward to building out a team of best-in-class representation focusing on the needs of the industry.
You can explore Spartan Hospitality by visiting, spartansurfaceshospitality.com. Join us in celebrating this new chapter and welcoming Vincent to the team by downloading his contact card.
See it in the News
Floor Trends: Spartan Surfaces Launches Hospitality Division
Floor Covering Weekly: Spartan Surfaces launches Spartan Hospitality
ABOUT SPARTAN
Spartan Surfaces, a subsidiary of Floor & Decor, is a specialty flooring company headquartered in Bel Air, MD with showrooms in D.C. and Chicago. Employing over 100 team members, its geography encompasses three-fifths of the United States with continued expansion on the horizon. Taking a human-centered approach, Spartan prides itself on great people dedicated to great products, great families, great friendships, and great happiness.