February 25, 2022
Setting Roots in Wisconsin, Spartan Acquires KRS Inc.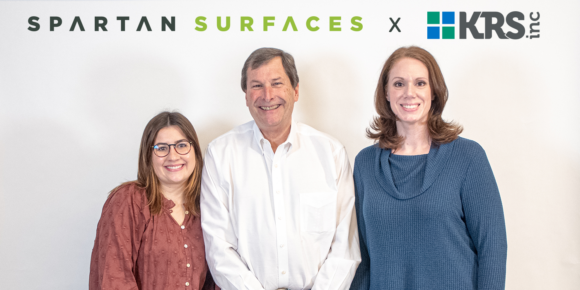 Entering the state of Wisconsin with the acquisition of KRS Inc., Spartan joins forces with their team of three, leveraging cultural and product synergies. Bringing 50 years of relationships, KRS provides a seamless path to market in the region.
KRS Inc. was founded in 1971 by Ken Schaetz as a jack of all trades representing windows, roofing, and flooring within the architectural market. Bought out by his son in 1994, Keith Schaetz made the shift to solely focusing on flooring alternatives for his Wisconsin clients. Keith, a man who lives by the belief that his word is bond, noted he's making this next shift to Spartan for several reasons.
"I could not pass up the opportunity to partner with one of the nation's top specifying distributors. Merging into the larger organization will provide KRS the strength to better service our valued customers within an evolving industry," Keith said. "It's about being the best you can be and doing whatever it takes to service your customers. Honesty, integrity, and taking care of people. That's what we are all about."
"As we work towards going national, we are excited to announce Spartan's first acquisition. We targeted KRS because they are a leader of hard surface flooring in the state of Wisconsin, and because they're led by an incredible leader Keith Schaetz, whose core values line up with ours," noted Spartan's Founder and CEO, Kevin Jablon.
With the transition, Keith and his team will continue to represent his existing product offering while adding several exciting new lines from the integration.  You can view the entire Wisconsin offering HERE.
Please join us in welcoming KRS – Keith Schaetz, Chelsea Puetz, and Tammy Masbruch – to the Spartan family.
Read About it in the News
ABOUT SPARTAN
Spartan Surfaces, a subsidiary of Floor & Decor, is a specialty flooring distribution company headquartered in Bel Air, MD with showrooms in D.C. and Chicago. Employing over 100 team members, its geography encompasses three-fifths of the United States with continued expansion on the horizon. Taking a human-centered approach, Spartan prides itself on great people dedicated to great products, great families, great friendships, and great happiness.