August 29, 2023
TalkFloor Interview: Builder Division – A New Era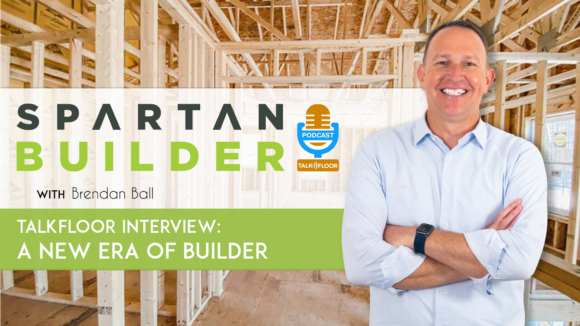 Spartan Surfaces, a leading name in the flooring industry, has recently embarked on a new journey with the introduction of Brendan Ball, the visionary behind our Builder Division. With a rich history in the flooring sector, Brendan brings a fresh perspective to the table, aiming to revolutionize the builder market. Floor Trends Magazine recently had the opportunity to sit with Brendan and discuss insights about the build out of Spartan Builder.
TalkFloor: Listen to the Full Podcast
Brendan Ball: A Journey Through the Flooring Industry
Brendan's association with the flooring industry dates back to the early 2000s when he began his career with Daltile. Starting from the warehouse, Brendan's dedication and expertise allowed him to climb the ranks. Eventually he led the builder business for the company. His tenure at Daltile was marked by innovation, especially during the challenging times post-recession when the builder industry was grappling with unprecedented lows.
After a successful stint with Daltile, Brendan expanded his horizons, working with other industry giants. His latest position as Eastern Division VP of Sales for Interior Logic Group provided him insights into a different facet of the business.
Spartan Builder
Brendan's decision to join Spartan Surfaces comes at a time when the company is keen on expanding its footprint in the builder market. "The opportunity with Spartan Surfaces is really exciting for me. Their unique customer focus, combined with a strong supply chain and best-in-class logistics, seems to be exactly what builders need right now," Brendan shared during a recent podcast with Tanja Kern, Associate Publisher & Content Strategist for BNP Media.
The new Builder Division aims to cater to the specific needs of home builders, trade partners, and installation companies. With a focus on customer service, timely delivery, and competitive pricing, the division is poised to set new benchmarks in the industry.
Current State of the Building Market
When asked about the current state of the building market, Brendan expressed cautious optimism. Despite challenges like rising interest rates and fluctuations in new home starts, the demand for housing remains robust. Brendan emphasized the importance of affordability in the current market. He notes that builders are actively seeking solutions to cater to this demand.
One significant trend Brendan highlighted was the increasing preference for vinyl plank flooring among builders. Its durability, water resistance, and aesthetic appeal make it a preferred choice, even over traditional wood in many cases.
Looking Ahead: Website Launch
With a clear vision and a roadmap in place, Brendan is optimistic about the future of Spartan's Builder Division. He envisions a scenario where builders not only choose Spartan Surfaces because of specifications but genuinely want to collaborate because of the value the company brings to the table.
See Spartan Builder's New Website
SEE IT IN THE NEWS
ABOUT SPARTAN
Spartan Surfaces, a subsidiary of Floor & Decor, is a specialty flooring supplier headquartered in Bel Air, MD. Employing over 150 team members, Spartan holds warehousing and offices in Maryland and Minnesota with showrooms in D.C. and Chicago.  Its geography encompasses seventy percent of the United States, with continued expansion on the horizon. Taking a human-centered approach, Spartan prides itself on great people dedicated to great products, great families, great friendships, and great happiness.